Tech
I Attended the First Official Digital Wedding
Estonia has approved civil contracts recorded in the blockchain.
by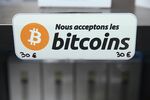 I just attended the strangest wedding: The whole world was invited, and it went almost without a hitch.
Starting Tuesday, the government of Estonia, in a partnership with an organization called Bitnation, is offering public notary services to Estonian e-residents. Its first official act was to register the marriage of two Spanish-born residents of London, Edurne Lolnaz and Mayel de Borniol. The marriage won't be recorded anywhere; instead, it'll be part of a blockchain -- a distributed database accessible to anyone with a private key, much like the process that registers bitcoin transactions.
This is not the first blockchain wedding --  David Mondrus and Joyce Bayo got hitched last year -- but it's the first with any kind of government sanction. The Estonian e-residency program is available to people who don't live in the small Baltic state but would like to use its jurisdiction for business. You can sign up online, but a trip to Estonia is required to open a bank account. Then, a company can be set up and administered online (Estonia has no corporate tax on reinvested profits). An e-resident's card isn't a residence permit, and an Estonian citizen would need to register a marriage in the time-tested way. The e-residency is intended for those who don't want to put down roots anywhere except the Internet, so it makes sense that it now comes with the opportunity to get "officially" married in the virtual realm.
The blockchain "notarization" may be untested and not recognized by courts and other authorities, but its advocates hope it will gain currency once more people adopt it, in the same way as bitcoin.
On a site they made to announce their wedding, Lolnaz and de Borniol, who had met online, wrote:
We are glomads -- our lives both started out in the Basque Country (not officially a country) but we've been moving from place to place since then. We have no specific home because home is everywhere on this little blue planet of ours. Just like our life, we do not want our marriage to be linked to any particular nation state, nor any state's definitions of what our relationship (marriage) and celebration (wedding) should look like -- hence, we are writing our own rules.
The wedding was broadcast on the site for anyone who cared to "attend."  
The couple wrote their own marriage contract under the lax family law of Ontario, Canada. It has a 42-month term, but it can be amended and extended if necessary. The blockchain will store the contract and any eventual changes. "Sorry everybody, this is a bit technical," de Borniol muttered as the bride and groom entered their digital ID numbers. The notarization didn't work the first time. On the second attempt, a digital signature certificate was finally generated, everybody whooped and the bride and groom kissed.
The actual service provider was not Estonia but Bitnation -- an entity known as a decentralized autonomous organization, set up by Susanne Tarkowski Tempelhof. Born in Sweden, her resume includes work as a public relations contractor for the U.S. government in Afghanistan and Libya -- "assisting with building and overthrowing government," as she put it. That is what turned her off the idea of traditional government:
I believed less and less in what the government did, and I started sympathizing more and more with the 'ungoverned' societies."The civil war in Libya was quite a wake up call. When I first came to the rebel controlled territories there was de-facto no government at all (the rebel council were about 10 guys hiding out in a basement, and their sole job was to speak with foreign media to gain recognition for the territories), but yet — everything worked amazingly well. Volunteers were doing everything from trash collection to traffic policing, neighborhood watch and cell tower engineering.
Tarkowski Tempelhof hopes Bitnation will become a platform for government services that aren't provided by any specific government. Countries are supposed to recognize it "organically over time, in tandem with mainstream adoption. When Bitcoin was first invented it wasn't recognized as a currency, until a significant amount of people started using it as a currency." Estonia has been the first country to extend semi-recognition to the seemingly quixotic project.
This may sound crazy, but here were these two young people wearing everyday clothes, talking about how they didn't want to spend thousands of dollars on dresses, rings and a reception, saying the Internet felt more like home than any country in the world. "Who decides what's a country or what's official?" de Borniol asked at one point. Tarkowski Tempelhof was there, too, smoking cigarettes and drinking Champagne. "It's the most romantic wedding I've ever seen," she said.
The tech behind the digital services may be a little bit raw, but the blockchain is a great innovation. It's being tested by big banks and stock exchanges as a way to process and store financial transactions. It's extremely hard to alter without authorization, which makes it as safe as any government computer. 
I'm not sure the rootless idealism of Lolnaz and de Borniol will ever become the norm: even digitally savvy Estonia is fiercely independent and concerned that a big predator, Russia, may be after its territory. I'd like to think, though, that the future holds more events like Tuesday's wedding.
This column does not necessarily reflect the opinion of the editorial board or Bloomberg LP and its owners.