Declassified
What Canada's New Foreign Policy Means for the U.S.
A stalwart ally is rethinking its role. First step: ending airstrikes on Islamic State.
by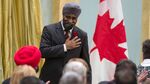 Canada's new Liberal Party government proposed drastic changes to its foreign policy during the campaign and now is committed to seeing them through. But as the new team in Ottawa transforms from campaigning to governing, its challenge is to mesh its view of the world with that of its allies, especially the United States.
The Halifax International Security Forum, held last weekend, was the first major opportunity for Canada's new leaders to openly discuss pressing security issues with foreign officials, experts and journalists. Some in the U.S. delegation worried that the new administration would shift course, calling into question Canada's commitment to fighting alongside the U.S. in the wars of the 21st century.
Canada's new defense minister, Harjit Sajjan, defended his country's new national security and foreign policy course to me in an interview. Sajjan is a decorated Afghanistan war veteran and former Vancouver police officer focused on organized crime.
He explained the rationale for some controversial decisions, like Canada's pledge to remove its fighter aircraft from the fight against the Islamic State in Syria and Iraq.  Airstrikes will not succeed, he argued, without a stronger focus on training local forces on the ground and fighting the root causes of radicalization in Muslim communities.
"For us, right now, we need to be able to adjust our contribution," he said. "We've had the airstrikes and now we need to put more of the focus on the training mission. We will fight, but we want to do it in a manner that's going to have the impact and where it's going to move things forward quickly."
Sajjan often harks back to his time as a lieutenant colonel in Afghanistan fighting the Taliban. This experience informs his philosophy on how to fight terrorism. It is also his defense against those who see the Canadian Liberal Party's shift as a weakening of Canada's commitment to the fight. To paint the Liberals as "doves" is ridiculous, he said.
 "Our objective is to look at the wider picture from a global context and what is Canada's role," Sajjan said. Canada wants to spend its limited resources to the best effect against the Islamic State. Canada's no longer just willing to do what Washington says. In fact, Sajjan said the U.S. could learn a thing or two about counterterrorism.
"We might also provide the necessary solutions that actually may have the greater impact on the fight," he said. "What we're looking at doing is actually contributing in a far more meaningful way that actually takes the fight to ISIS."
Canada's new defense minister similarly dismissed concerns about Canada's other pending national security shift: its expected pullout of the F-35 Joint Strike Fighter program. The Conservative government had committed Canada to buy 65 of the expensive jets, but now, pending a defense review, its Liberal successors may back out of that contract.
Sajjan said that although no final decisions had been made, Canada would base its fighter jet purchases based on its needs and requirements. He said Canada was committed to replacing and upgrading its existing fleet of F-18 fighters. Pressed to address the possible abandoning of the F-35 program as a symbolic step away from cooperation with Washington, he said he just didn't see it that way.
"That's a very dangerous way to think when we look at symbology of a certain project," he said. "If we base it as a symbolic thing, we are missing the bigger picture: what do we need this platform for."
After hearing from Sajjan and other top Canadian officials at the forum, several members of the U.S. delegation said the Liberal Party government was discussing tactical changes as though they did not have political and diplomatic consequences.
Some Americans at the forum expressed hope that as Canada's new leaders settled in, they would be more cautious, avoiding any policy change that would be seen as a rebuke to the U.S. 
"Really nice people, high aspirations," said Kurt Volker, a former U.S. ambassador to NATO. "They were campaigning with an ideology, but the world is a tough and dangerous place, and they are going to have a steep learning curve."
The Canadian leaders don't see it that way. For now, they believe they have a mandate to alter Canada's foreign policy course. They believe that Canada's actions in the past should be proof enough that Canada is a strong ally.
"We ate in the same dirt together, I can say that for a fact, and we spilled blood together," Sajjan said. "That's the level of commitment our two nations have together."
To contact the author of this story:
Josh Rogin at joshrogin@bloomberg.net
To contact the editor responsible for this story:
Philip Gray at philipgray@bloomberg.net
Before it's here, it's on the Bloomberg Terminal.
LEARN MORE