Declassified
Republican Campaign Against Refugees Is Just Beginning
One measure in Congress would curb immigration from Syria. Another would end it.
by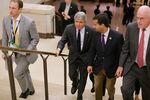 The House passed a bill Thursday to severely restrict the admission of refugees from Syria and Iraq. President Barack Obama has promised to veto it. Behind the scenes, Republicans are preparing several bills that are more drastic, aiming to close American borders to asylum seekers. These measures set up a much longer political battle.
The most severe of the Republican proposals would suspend all U.S. government support for resettling refugees in the U.S. and would aim to guard against certain refugees entering the U.S. through the southern border who are suspected of ties to terrorism, designating them "special interest aliens."
The four sponsors said in a press release that all services in the Office of Refugee Resettlement should be suspended, including the health services, legal services and social services "that help refugees become self-sufficient as quickly as possible after their arrival in the United States."
One senior Republican House aide told me that if lawmakers are concerned about radicalization in the U.S., then cutting off refugee resettlement is the most counterproductive step they could take.
Representative Marsha Blackburn of Tennessee said she and the other sponsors want to include their proposal in the omnibus spending bill that will be needed next month to fund the government. Democrats are urging their Republican colleagues not to risk a government shutdown by tying the funding bill to the refugee issue. The White House can easily veto standalone bills, but a government funding bill is too important to reject easily.
There are at least half a dozen other bills on their way that could be attached to the omnibus bill, all of which aim to restrict the flow of refugees.
Representative Steve Stivers, Republican of Ohio, has been circulating a letter this week that urges Obama to stop accepting any refugees from Iraq or Syria. As of Monday, the letter had dozens of lawmakers' signatures.
Ted Poe, Republican of Texas, has introduced a separate piece of legislation that would change the law to allow governors to refuse admission to refugees the federal government wants to resettle in their states. Twenty-seven governors have come out publicly to say they would refuse new refugees from Syria, but in a conference call this week, top White House officials told governors they did not currently have that right.
"Given that more than half of the US states have already indicated their desire to opt out, it is imperative that Congress ensure that our states have this choice," Poe's office said in a letter to his colleagues.
Ted Yoho, Republican of Florida, introduced a bill similar to the Poe legislation, to give governors the right to refuse refugees and to require FBI background checks for refugees. His Florida colleague Dennis Ross introduced a bill to stop all federal funding to admit Syrian refugees. Florida Republicans Tom Rooney and Curt Clawson have anti-refugee bills of their own.
The House passed the main bill on Thursday afternoon with some Democratic support. The measure, to be vetoed by Obama if it passes the Senate, is sponsored by Michael McCaul, chairman of the Homeland Security Committee. Homeland Security Secretary Jeh Johnson testified this week the bill's requirement that he personally certify each Syrian and Iraqi refugee as safe was "hugely cumbersome" and not a good use of his time.
Not all Republicans want to put up roadblocks against refugees, but the leadership is on board and the presidential candidates are amplifying the anti-refugee message.
The administration has found some unlikely allies. Retired Gen. Jack Keane, a harsh critic of the Obama administration's Middle East policy, implored Republicans to resist the rhetoric against Muslims and refugees.
"Come on, this is America. We can do this right," he testified. "We are smart enough to bring thousands of people into this country and make sure they are not going to hurt us."
Obama, speaking in the Philippines, said that the Republicans' rhetoric was a "potent recruitment tool for ISIS." But recent polls show that most Americans are leaning toward the Republican way of thinking. The administration will have to be more savvy, and more substantive, if it wants to continue to welcome Syrian refugees. The fight is just getting started.
To contact the editor responsible for this story:
Philip Gray at philipgray@bloomberg.net
Before it's here, it's on the Bloomberg Terminal.
LEARN MORE