view
Cost Control Costs SolarCity Dearly
It's looking less like a unicorn and more like a horse.
by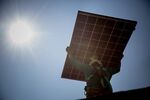 A unicorn turning into a horse sounds like a twisted fairy tale. Instead, it's what just happened to SolarCity.
Roughly a quarter of the solar-power leasing company's value was wiped out Friday on the back of results released the previous afternoon. The earnings numbers, as usual with SolarCity, aren't the main thing here (its loss was bigger than expected, just for the record). The bigger deal was this:
"The downside of growing at 80 percent or 90 percent is you have to make investments into the infrastructure today, but you only recognize the benefit of that investment two quarters to three quarters later. That leaves a cost to that scale. Now that we have achieved scale, we as an executive team and the board have decided to focus on cost reduction and being cash flow positive by the end of 2016."
That was Lyndon Rive, SolarCity's co-founder and chief executive, attempting to gently lead investors toward a new reality on a conference call on Thursday. Judging from Friday's price move, he wasn't gentle enough.
Yet his message fits entirely with the zeitgeist across the energy industry -- weirdly, Rive has something in common with Richard Kinder at Kinder Morgan and Rex Tillerson at Exxon Mobil these days.
Whether you are a solar company, a pipeline operator or an oil baron, capital has gotten tighter. Just look at the drubbing dished out to growth-oriented energy stocks since June, be they yieldcos, master limited partnerships or the exploration and production sector. Even oil majors are at pains to emphasize how much they prioritize dividends over investment.
For SolarCity, this pivot is harder than for many. Investors clearly don't buy the stock for near term profits: The company has lost almost $1.2 billion at the operating level since 2008, and the street doesn't see that changing any time soon, according to numbers compiled by Bloomberg. Remarkably, the stock crashed Friday despite Rive going on to say that, even with the new focus on becoming cash flow positive, SolarCity is targeting 40 percent growth next year. For many, that would be like an early Christmas present -- but not in Unicorn Land. 
Though no longer a "unicorn" in the strictest sense -- it's been a public company for a few years now -- SolarCity is still treated by many investors like a startup, paying for sexy runaway growth, not staid cash flow. 
Apart from having their highest hopes dashed, there are a couple of other reasons for investors to be wary of SolarCity's stock. 
One is those costs Rive mentioned. A recurring slide in the company's earnings presentations shows how the cost per watt of installed capacity has come down over time. In the past two years, SolarCity says, it has fallen from $3.26 per watt to $2.84, as you might expect for a company growing rapidly and achieving economies of scale.

What's odd is that the sales and overhead piece of that has actually gone up by half in that time. In other words, while greater scale has helped cut the unit cost of actually installing panels by 28 percent, more than 40 percent of those savings have been eaten away by rising sales and back-office costs.
Fixing that is critical to SolarCity's new strategy. Looking at its unit-cost targets for 2017, virtually all of the planned savings are in sales and overhead, effectively getting them back to where they were two years ago.
Thumbs up for the objective, especially as federal subsidies boosting demand for solar power may fall away starting in 2017. SolarCity says costs have risen due to upfront investment in anticipation of future growth and that the new strategy will help bring those unit costs down. Investors should watch closely for progress on that front.
The other concern is around "retained value." Like many a unicorn lacking traditional earnings, SolarCity is assessed in other ways. Retained value is an estimated net present value of SolarCity's long-term customer leases. Take off the company's net debt, and you get something like an implied share value against which you can compare the current stock price.
It's a dubious number on which to hang your investment decision, but it's there at least. As of the third quarter, SolarCity puts retained value at $33 a share. Friday's plunge took the stock down to a 13 percent discount to that, having traded at an average premium of 145 percent since the start of 2014.

For the bulls, that might sound like all the growth expectations have been squeezed out and the stock looks cheap.
There's a wrinkle, though. In calculating its retained value, SolarCity ignores $796 million of convertible debt maturing in 2018 and 2019, because it assumes it will be converted into equity. Yet the conversion prices range between $46.54 and $83.53, with the majority of the debt having a minimum conversion price of $63 and change.
Convertibles, with their inherent optionality, can be treated as you see fit depending on how optimistic you are about the future. But with SolarCity's shares now trading at less than $29, and the critical growth story scaled back, those two convertible notes are looking distinctly more debt-like. Both fell on Friday and now trade at 82 and 67 cents on the dollar, respectively. Assume no conversion, and SolarCity's retained value drops to just under $25 -- leaving the shares at a 14 percent premium. Even as a horse, it looks like SolarCity's stock has a lot riding on it.
To contact the author of this story:
Liam Denning at ldenning1@bloomberg.net
To contact the editor responsible for this story:
Mark Gongloff at mgongloff1@bloomberg.net
Before it's here, it's on the Bloomberg Terminal.
LEARN MORE