Health Care
Merger Madness: How Much Is Enough?
Today's mega-deals could be tomorrow's mega-duds.
by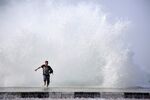 It's been no secret that Pfizer was planning something big, in an already blockbuster year for M&A. Yet somehow the durability of this year's streak of dealmaking and the money at stake still boggles the mind. 

Deal mania first surfaced in early 2014, with an increasing desire by U.S. companies to use large, complex deals as a way to flee stifling taxes, the latest method of boosting their stagnating earnings. This was quickly met with resistance from the Treasury Department, but in government fashion, the Treasury dragged its feet in firming up the actual rules to prevent tax-inversion deals. It had success in stopping some big companies from packing their bags for the greener pastures of Ireland, but these types of transactions still persist.
Now, the biggest inversion  of them all may be en route: Pfizer, the 12th-largest American corporation, is in talks to buy Allergan, the $120 billion maker of Botox wrinkle injections that's based, where else, in Dublin. 

The mega-merger engine keeps chugging along despite forces that could have easily derailed it -- a bumpy stock market, a slowdown in emerging economies, controversy surrounding the pharmaceutical industry's pricing methods, etc. Super-sized deals and tax-dodging practices have even become talking points for presidential candidates. 
In spite of it all, chief executives and their bankers continue to forge ahead. Before this week, it wasn't clear if 2015 would ultimately surpass the record $3.4 trillion of M&A that took place in 2007. But if Pfizer buys Allergan, it's almost certain. 

What we don't know is whether this transaction and the many others this year are going to be worth the cost. Pfizer and other big companies seem to be running out of ways to increase near-term earnings for impatient shareholders, so the only thing left to do are mega-deals.
How much is enough? When does it end? And will it all work out?

The idea management teams have been pushing is that merger synergies will lead to stronger companies. Investors have generally agreed, which is why the stock prices of so many acquirers have gained. But we know that most huge mergers don't tend to turn out the way management and shareholders hope. Integration challenges and unforeseen issues can arise when two giant companies officially become one. And the additional revenue and benefits of a lower tax rate don't satisfy investors for long. 
Not every deal will turn out badly, but it's tough to determine which ones are truly beneficial to the long-term prospects of a business versus the ones that simply engineer a stock boost. Look at Valeant: Its serial acquisition strategy could be biting it in the butt after years of outsized stock returns that made other corporations envious. 
Also, keep in mind that the level of goodwill on Standard & Poor's 500 companies' balance sheets continues to hit new highs. Looming writedowns would defeat the whole purpose of this merger spree, which is to boost stagnating revenue and profit.

The reality is that shareholders just might have to start getting comfortable with the idea that big companies can't be growth engines in perpetuity. Even in the pharma industry, where innovation is always occurring and there's no shortage of diseases in need of a cure, the process of developing treatments, obtaining regulatory approvals and bringing the treatments to market takes an immense amount of time. Growth comes in waves.
So if what's underlying this merger madness is the pressure to achieve a few quarters of impressive growth rates that otherwise aren't attainable, are we really making stronger companies? Or just stronger stock prices?
To contact the author of this story:
Tara Lachapelle at tlachapelle@bloomberg.net
To contact the editor responsible for this story:
Beth Williams at bewilliams@bloomberg.net
Before it's here, it's on the Bloomberg Terminal.
LEARN MORE