China
China Can't Kick Habit of Worshiping GDP
The unnaturally smooth growth numbers raise suspicions.
by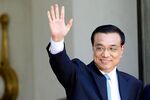 China's  target for economic growth is 7 percent a year. And whaddya know: the National Bureau of Statistics of China reported earlier this month that the country's gross domestic product in the third quarter was 6.9 percent higher than a year before. That's after growing 7 percent in the second quarter and 7 percent in the first.
A lot of observers are understandably skeptical of these near-perfect numbers, and make their own estimates of Chinese GDP. Tom Orlik, the chief Asia economist for Bloomberg Intelligence, has compiled a roundup of outside takes on what third-quarter GDP growth in China really looked like:

The "Li Keqiang index" is compiled by Bloomberg from the three indicators (electricity use, rail cargo volume, and the amount of loans disbursed) that the former party secretary for Liaoning, a northeastern province, told a U.S. official in 2007 that he followed. These, he said, gave a more accurate economic reading than Beijing's "man-made" GDP figures. 1
Since then, Li has become China's premier, the No. 2 man in Beijing. But his "index" has come under fire for being too skewed toward heavy industry at a time when China's economy is shifting toward services. The same is true for most other GDP proxies -- the reason being that if you're looking for reliable, checkable data, the Chinese service sector doesn't have much to offer. "If we entertain the idea that many of these data are manufactured, are influenced by policy makers, then service-sector data particularly are going to be susceptible to that kind of influence," Erik Britton of Fathom Consulting said on Bloomberg TV when the official GDP numbers came out. "We can tell stuff about trade, for example, because we have mirror statistics for their trade data."
In the face of an industrial and trade slowdown, it is those service-sector numbers that enable official GDP figures to remain on their preternaturally smooth upward trajectory. And it's really the smoothness that raises suspicions. Lombard Street Research, which estimates that the Chinese economy grew just 3.1 percent year over year in the third quarter, actually estimated faster growth than the National Bureau of Statistics did in parts of 2011, 2012 and 2013. It's not that these people don't believe China's economy has grown a lot. It's that economies, even partially planned economies, simply don't trundle along at the same speed, quarter after quarter.
One question is whether this matters. "We have to separate this almost absurd focus on this growth rate of 7 percent to 6.9 to 6.5," said former IBM boss Louis Gerstner Jr. Monday, also on Bloomberg TV. Well yeah, if that's all the real variation is, then the focus is silly. But what if it's much bigger?
Even in countries where there isn't a political imperative to keep GDP rising at a preordained pace, those who calculate the number tend to underestimate big economic shifts. Consider the differences between the initial 2008 and 2009 GDP estimates made by the U.S. Bureau of Economic Analysis, and what the numbers have since been revised to:

Early GDP estimates involve a lot of extrapolation from past trends. It was only well after the fact, when more raw data was available, that the full disastrousness of the fourth quarter of 2008 became apparent. The early GDP numbers also missed the weakness of the recovery that began in the middle of 2009.
China is clearly in a slowdown. If its official numbers are dramatically underestimating the extent of that slowdown -- either by design or because of the built-in conservatism of GDP calculations -- one danger might be that its leaders won't do enough to combat it. This would require that China's leaders believe those official numbers, though, and I get the impression that they're more sophisticated than that. For example: four days after that latest on-target GDP report, the People's Bank of China cut interest rates.
So what's the danger? A parallel that springs to mind is that of a corporation that's been on a long run of consistent earnings growth, but is showing signs of sputtering. In order to keep earnings up, corporate executives sometimes do things they or at least their shareholders later regret -- making overpriced acquisitions, stuffing their sales channels with unwanted products and committing outright accounting fraud.
China is run much like a corporation, and its GDP reports bring to mind the steadily rising quarterly earnings-per-share numbers of Jack-Welch-era General Electric. The tools its leaders have to keep the growth going are different, as are the consequences if they mess up. But they're definitely in a predicament similar to one that has in the past led very smart people to do very stupid things.
Premier Li appears to be aware of this danger, and has been trying lately to downplay that 7 percent GDP growth target. But when your country's wildly successful economic strategy has revolved for decades around what even the official media now call "GDP worship," it can be a hard habit to break.
We know this because the U.S. official's cable back to Washington was later released by Wikileaks.
To contact the author of this story:
Justin Fox at justinfox@bloomberg.net
To contact the editor responsible for this story:
James Greiff at jgreiff@bloomberg.net
Before it's here, it's on the Bloomberg Terminal.
LEARN MORE