Markets
Bill Ackman's Hair Is Trade of the Week
The hedge-fund manager's Valeant loss, Wall Street's bullish turn and other observations.
by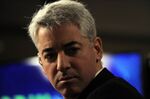 Some former intelligence officers gave an interesting critique of the Benghazi investigations this week for Foreign Policy, but there was a line that seems appropriate for Wall Street too: "From within the punchbowl, everything around us looked like punch."
If you happened to be immersed in the stock market in August, staring at screens where the prices were all turning that nasty Hawaiian Punch red, it may have started to look like the world -- or at least the bull market -- was ending. Yet lo and behold, we get robust earnings from Google Alphabet, Amazon.com and Microsoft and it turns out the entire planet did not actually retreat to their underground bunkers to repent before the financial Rapture that has been prophesied by seemingly half of the Internet.
Indeed, people used the Internet for other things, like shopping and actually clicking on those annoying ads, and storing stuff in the cloud. And, anyway, here we are back to where we were before the August correction. 
Maybe the S&P 500 won't post much more than a low-to-mid single-digit percentage gain for 2015, but at least for now it doesn't feel like the punch bowl is falling swiftly toward the floor. So that's pretty cool.
Anyway, here are some other random, non-sequitur reflections on this week's biggest events on Wall Street and beyond. (Sorry Cubs fans, but it's not going to be enough to fill all the free time you suddenly find yourselves with for the rest of October.)
First up: John Thain is retiring after a long career on Wall Street, including jobs leading the New York Stock Exchange, Merrill Lynch and CIT Group. Those three resume items collectively earned him the moniker of "turnaround CEO" who's hired in an attempt to fix troubled firms. The 60-year-old says he now plans to spend more time with his 2-year-old granddaughter. What's the "real story" here? One educated guess: That toddler better get her act together quickly or she may find herself sold to Bank of America before the weekend is over.
Turning now to the buy side: After knocking a few billion off the value of Bill Ackman's portfolio by publishing a report comparing hedge-fund hotel Valeant to Enron, short-seller Andrew Left said he didn't feel too bad about it. For whatever reason, there are certain people who enjoy a bit of schadenfreude when Ackman's trades go sour. To steal a phrase from Bloomberg's Felice Maranz: he's like the Gwyneth Paltrow of hedge-fund managers. Maybe it's the hair, since both Bill and Gwyneth are undeniably blessed in that category.
This brings us to a strange proposal that Left floated during an interview with Bloomberg's intrepid stocks team: "If I could switch bank accounts and hair with him, I'd close out tomorrow."
This is the first time we've heard of this sort of follicle-swap trade, but you have to admit it's pretty intriguing. After all, hair is an asset class in which many a fund manager has suffered significant outflows in recent years.
Turning now to America's favorite pastime: baseball. If you're an American League pitcher who has to face the Mets' Daniel Murphy next week, now is a good time to fake a season-ending injury.
Turning now to America's second-favorite pastime: getting deep into debt. The U.S. Treasury Department postponed an auction of two-year notes because it didn't want to breach the debt ceiling. This means we'll probably start hearing about all those "extraordinary measures" that the government may have to undertake to pay the bills. So if you ever wanted to hire Joe Biden to perform at a dinner party, you may finally get the chance!
And finally, Barclays said it's buying Fitbits for more than 75,000 employees and will encourage fitness competitions. Good luck Barclays, especially if you compete with  junior bankers from Goldman Sachs and JPMorgan. Their Fitbits, we're guessing, will show they walked an average of 400 miles per day. But wait a second -- those bankers don't work there anymore....
Here's hoping that those Fitbits aren't the best bonuses the fixed-income folks see this year.
This column does not necessarily reflect the opinion of the editorial board or Bloomberg LP and its owners.