Companies
Team Health Wins By Waiting
by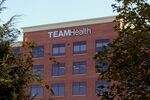 Team Health was smart to hold out for more.
The provider of outsourced physician services on Tuesday rejected a $5.2 billion takeover offer from AmSurg. The stock-and-cash bid was valued at about $71.47 a share based on AmSurg's closing price Monday. It's now worth about $69, after AmSurg slumped 4.1 percent amid concerns it's overreaching with the takeover, along with the traditional selloff of the acquirer.

Either way, AmSurg is offering Team Health shareholders a lower price than the $72.38 that analysts on average were forecasting the company would achieve on its own over the next year. All but one analyst recommended buying Team Health before the takeover approach.  

At the announced price, AmSurg's bid is about a 30 percent premium to Team Health's average share price in the prior 20 days. That looks decent enough on the surface -- except that Team Health had slipped about 22 percent since announcing the takeover of IPC Healthcare for about $1.5 billion on August 4. At about 24 times trailing 12-month Ebitda, the purchase of IPC was pricey and will roughly double Team Health's reported leverage. 

Team Health's stock-price drop may have been more knee-jerk than thoughtful, though. Buying IPC makes long-term strategic sense, not least of all because of the opportunities in Medicare's bundled payments initiative. The program combines all of a patient's hospitalization charges in one bill for reimbursement in an effort to reap cost savings for Medicare and providers alike and should drive Ebitda gains at IPC.

The IPC acquisition certainly can't have been all that bad, because AmSurg likes it enough to see the deal through, should it acquire Team Health.

In light of an overdone slump in Team Health's shares, AmSurg's offer looks decidedly less impressive. The announced price is just a 5.8 percent premium to Team Health's stock price before the IPC takeover was announced.
There could be a competing offer. Also, the bid AmSurg disclosed on Tuesday is the same one that Team Health says its board already rejected once before in private, so it's unlikely that this is AmSurg's best and final. 

AmSurg, which helps run clinics and surgery centers, seemed to signal as much itself. Asked what leverage the company would be comfortable with should additional deal opportunities arise, AmSurg chief financial officer Claire Gulmi said 5.5 times. The company's current offer for Team Health would imply pro-forma leverage of 5.1 times. So there's likely a little wiggle room -- even if investors are already balking somewhat at the price tag. 
To contact the author of this story:
Brooke Sutherland at bsutherland7@bloomberg.net
To contact the editor responsible for this story:
Mark Gongloff at mgongloff1@bloomberg.net
Before it's here, it's on the Bloomberg Terminal.
LEARN MORE