Culture
Kitchen Design Isn't Sexist. It Liberated Women.
The feminist argument against mass-market cabinets misunderstands how they changed women's lives.
by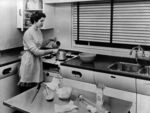 Kitchens should not be the domain of only women. But at some point, a writer at Quartz argues, they were tailored to be female friendly -- meaning the design of American kitchens is sexist to this day.