Russia
Why an Ex-Oligarch Is Suing Russia for $12 Billion
Sergei Pugachev ran afoul of Vladimir Putin.
by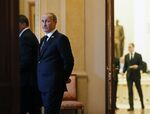 The $12 billion arbitration claim that Sergei Pugachev filed against Russia this week to obtain restitution of his seized assets could make him just another ex-oligarch with a grievance. Russia has produced a fair number of these in recent years. Yet the story behind the litigation exposes the predatory, inept bureaucracy that now runs the enormous state sector of the Russian economy, and shows how the romance and ambition that once propelled the transition from communism to capitalism met its end.
The similarities between Pugachev and Mikhail Khodorkovsky, another Russian tycoon in exile, are hard to ignore. Both started building their fortunes in the late 1980s: Khodorkovsky traded in computers, a lucrative business in the Soviet Union's final years; Pugachev made his pile helping state export companies, which were forced to conduct trade at a ridiculous official exchange rate, obtain more rubles for their goods.
Both opened banks, before graduating to industrial assets. Khodorkovsky took advantage of the government's infamous "loans-for-shares" program, which allowed a group of bankers to pick up dilapidated state assets at a token price, to build Yukos, which grew into Russia's biggest oil company by the early 2000s. Pugachev scorned "loans-for-shares." Instead, he developed relationships with top bureaucrats that he could leverage into ownership of a major shipyard, a coal company in remote Tuva and a development project just off Red Square.
Pugachev remembers Khodorkovsky as arrogant and reckless. He recalls a meeting of oligarchs with Oleg Soskovets, who ran former President Boris Yeltsin's 1996 election campaign against a strong Communist rival:
Soskovets made this spiel about how if the Communists won, we would be the first to get hurt. Everybody said yes, of course, but only if the government gave them money because everybody claimed to have none of their own. Then, when everybody was about to sit down and eat, Khodorkovsky asked for the floor and said: 'I don't get it why you're trying to care us with the Communists. With money, I can square things with whoever's in power.
Pugachev told many such stories when we met at his lawyer's office in Paris this week. There is no doubt that the former senator was a consummate political insider: a member of the inner circle that ran Russia while Yeltsin was in and out of hospitals during his second presidential term.
In  that role, he did his best not to make enemies, and served as a go-between for feuding officials. He never gave interviews, nor did he seek to acquire major oil or metals assets, preferring instead to buy and sell smaller companies. He says he's always been an investor rather than a manager. Pugachev watched Putin wrest a popular TV channel from the oligarch Vladimir Gusinsky and then throw Khodorkovsky in jail for tax evasion. As he tells it, at the beginning of Putin's rule, the oligarchs were ready to hand over their cheaply privatized assets to the government in exchange for minority stakes and immunity from any future charges. But apparently Putin wanted the oligarchs on the hook.
Pugachev felt more secure than his peers: He had bought wharves in St. Petersburg, as well as shipyards, from multiple private owners. His business depended on the government. "I knew exactly how much the state would pay me for ships each year under the government rearmament program," he says. Yet he made an honest attempt to rebuild the Northern Shipyard, which had made icebreakers, including atomic ones, for the Soviet merchant marine. With his talent for getting a piece of state programs, he restarted production and became a major supplier of new ships for the Russian navy. Pugachev had Putin's trust, and he used it to get the Kremlin's permission to acquire  some crumbling historic buildings in Moscow with a view of Red Square that he planned to  turn into a hotel and luxury apartments.
Then things went wrong. Pugachev suspects his relationship with Putin started to cool when the businessman mentioned that his common-law wife, the aristocratic Alexandra Tolstoy, was a U.K. citizen. "Couldn't you have found someone here in Russia?" Putin asked, according to Pugachev. The billionaire compounded his troubles by acquiring French citizenship in 2009. Soon afterward, the government shut down his Red Square development project. He was promised compensation, which never came.
According to Pugachev's lawsuit, in November 2009, Putin -- who then served as prime minister under President Dmitri Medvedev -- ordered him to sell his shipyards to the state-owned United Shipbuilding Corporation, run by a friend, Igor Sechin. Pugachev said he was willing. He told me he cited a  price of $7 billion to $10 billion, but was soon informed that only $5 billion was available. He agreed to the deal anyway: He saw Putin was serious about renationalizing Russian industries, and he wanted to pull out his money.
Pugachev says officials took their time deciding how they would arrange the purchase and where the money would come from. At the same time, Sechin was pushing law enforcement agencies to look into possible wrongdoing at Pugachev's companies. The ex-millionaire's descriptions of the political intrigue are vivid and  believable: It was Sechin whom Khodorkovsky accused of appropriating his oil assets, which are now part of state-owned Rosneft, where Sechin is chief executive.
Pugachev's fundamental contention is that the government cheated him. After a series of delays, he was told in 2010 to pledge his shipyards as security for a $1 billion loan issued by the Russian Central Bank to Mezhprombank, a troubled lender. He claims he was told the bank would then default on the loan, the central bank would sell the shipyards to the United Shipbuilding Corporation at a fair price, recoup the $1 billion and pay Pugachev the rest. 
This is a weak link in Pugachev's telling. He founded Mezhprombank in the 1990s, and though he says he didn't control it in 2010, his shipyards kept large deposits there. And the bank had helped finance their purchase. The 2008 financial crisis did it in, though. It defaulted on two euro bond issues and turned to the central bank for emergency assistance, which is how it acquired the $1 billion debt. Russia's deposit insurance agency, charged with liquidating the bank, accuses Pugachev of intentionally running it into the ground and stripping billions of dollars of assets. Pugachev faces arrest in Russia on this charge and he is the subject of a Interpol "red notice." A London court imposed a freeze on his international assets last year. This year, it was upheld, and Pugachev's French passport -- now the only one he has -- was confiscated, preventing him from leaving the U.K. He escaped to France -- "perfectly legally," he assured me. Nonetheless, he was careful not to tell me in advance where to meet. 
After reviewing some of the documents Pugachev is using to back up his lawsuit against Russia, I can't say with certainty that he didn't attempt to offload Mezhprombank's losses on the state while seeking a market price for his industrial assets. It is clear, however, that Sechin took part in shaping the deal and making sure Pugachev didn't get paid. All of the ex-billionaire's Russian assets are now in the hands of the state or companies friendly to government officials.
According to the Organization for Economic Cooperation and Development, the state-owned sector controls 50 percent of the Russian economy, and its share continues to grow. That makes the system ever more corrupt and inefficient. "For the state structures, business is not about ownership at all but about controlling cash flow," Pugachev says. "Say, with a wharf, there are only a few potential metal suppliers, and choosing one is worth a lot of money. Kickbacks have replaced share ownership as a model."
Pugachev says he decided to sue Russia because he wants to clear his name and because he's angry about the destruction of the country's entrepreneurial spirit. "People I worked with 20 years ago were bright-eyed and full of hope," he says. "Now those same people want nothing at all except a sinecure at some state company." 
Also, the former oligarch says he hopes to harass Putin's government into negotiating a deal by seeking to force the seizure of Russian assets, as former Yukos shareholders have been able to do after winning a similar legal action. Still, he hinted that obtaining his money was secondary to ensuring he keeps his life. He talks about threats, and he's heavily guarded. He says it now would be "absolutely pointless" to kill him because his family would carry on with the legal action.
The exiled oligarchs played a risky game, scorned rules and became rich in what was then a desperately poor country. Yet they were entrepreneurs, proud of their ability to restore decrepit Soviet industries to profitability. That pride, which both Khodorkovsky and Pugachev exhibited, is out of fashion in today's Russia, replaced by a noxious cocktail of jingoism and corruption.
Khodorkovsky openly defied Putin; Pugachev cultivated a friendship with him.They both ended up much poorer and unable to return to Russia. The details of their stories of expropriation are vastly different, but that's only important to lawyers and courts.  
It's the similarities that tell the deeper tale. Russia may need robber barons again;  this time, to recover after Putin's rule. Let's hope the next batch does a better job of establishing property rights and the rule of law -- both for themselves and future generations.
This column does not necessarily reflect the opinion of the editorial board or Bloomberg LP and its owners.