Why the Fed Should Raise Rates Now
It would limit asset bubbles.
by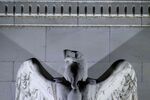 Now that U.S. stock markets have experienced their first 10 percent correction since 2011, investors are again looking to the Federal Reserve to bail them out. Although the Fed hasn't raised interest rates in almost 10 years, sympathetic pundits say it's still too soon to raise them now. The economist Larry Summers, runner-up for the top spot at the Fed a few years ago, says raising rates would risk "tipping some parts of the financial system into crisis."