Do the Math: The Rich Really Are Different
Research suggests they're uniquely positioned to steer more money their way.
by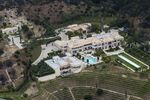 Is extreme wealth inequality in the U.S. something that government can or should address? The answer depends on how it arises. If everybody has a shot at the top, maybe it's not so bad. If the wealthiest are exploiting some kind of advantage, the system may need fixing.