GOP Outsiders: The New Season
Conservatives love Trump for attacking conservative policies.
by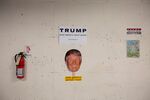 The once shapeless Republican nomination contest has its plot line as it heads into a new fall season. The theme is political experience: the less, the better, to judge from the enthusiasm (and poll numbers) generated by Donald Trump, Ben Carson and now Carly Fiorina. Not one of the three has previously held elected office, and only one, Fiorina, has even been a candidate.