Why a Woman Can't Be More Like a Man
What if men's brains really are better at a lot of things? Don't panic.
by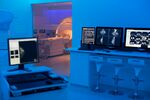 "Why can't a woman be more like a man?" asks Henry Higgins in "My Fair Lady." Women might point out that, since too many men seem to trust a mysterious toilet paper fairy to change out the forlorn tube of cardboard, it makes more sense to ask: "Why can't a man be more like a woman?"