Princeton's School of Hard Knocks
Competition on elite campuses builds character.
by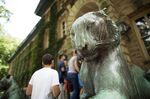 Worrying about the angst of high-achieving students has become a minor industry. "America's culture of hyperachievement among the affluent" has led to suicides, depression, and anxiety among college students, suggested a July New York Times feature. "These cultural dynamics of perfectionism and overindulgence have now combined to create adolescents who are ultra-focused on success but don't know how to fail," wrote Julie Scelfo.  The rhetoric of concern barely conceals contemptuous disapproval.