Hungary's Xenophobia, Europe's Crisis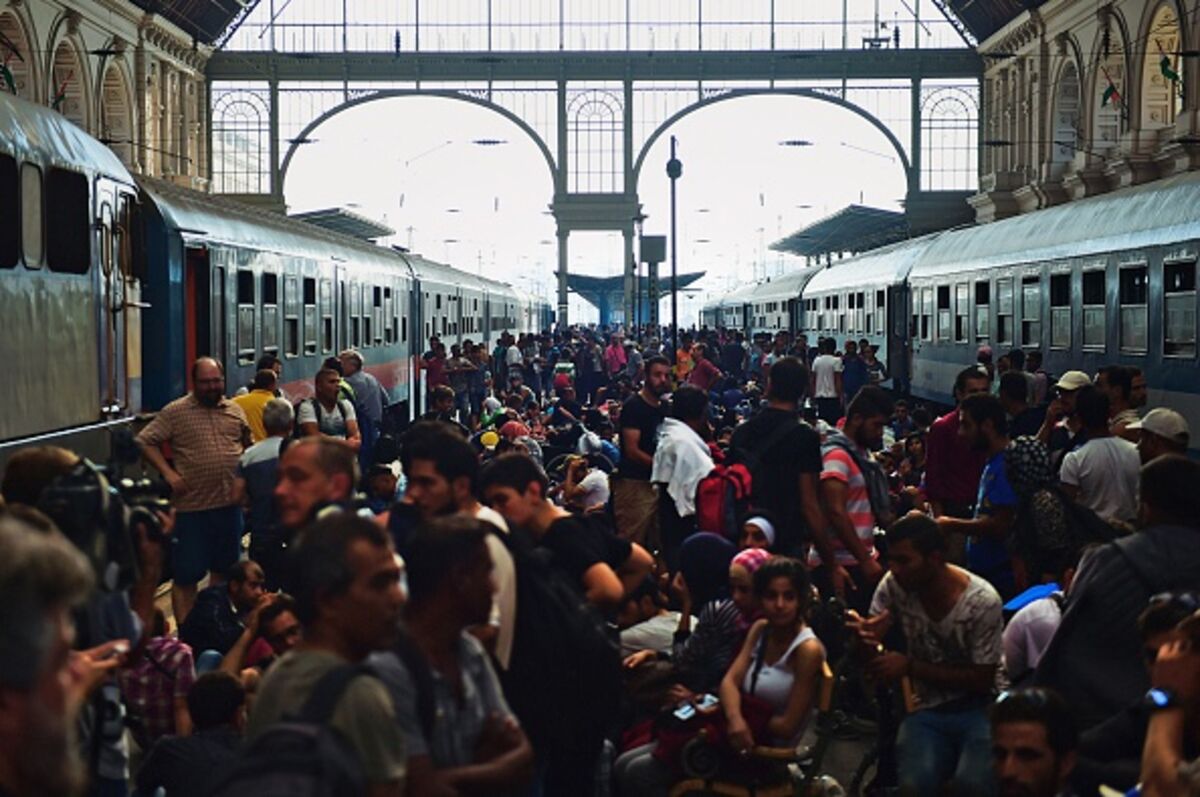 Photographer: Attila Kisbenedik/AFP/Getty Images
Hungary's response to Europe's refugee crisis has been shaped more by domestic populist politics than by good judgment -- and the results have been shocking and disgraceful. The European Union as a whole, though, hasn't done much better. The disarray in Hungary shows the urgent need for a reassessment, and not just in Budapest.
Hungarian Prime Minister Viktor Orban has been linking immigration to most varieties of evil, up to and including terrorism, for months. He has built a fence along the border with Serbia; deployed the army; and blocked those refugees who get across from boarding trains out of Hungary, only to then let them on the trains. On Tuesday, he shut down the stations, once more leaving the refugees stranded. 
The result has been refugee camps at Hungarian train stations, with migrants forced to pay criminal gangs to smuggle them to Germany and other destinations in trucks -- such as the one in which 71 people died last week on an Austrian road. Many of these people have escaped the horrors of Syria and Darfur. They do not deserve such treatment.
Orban can claim he is dutifully applying EU law. As a frontier member of both the EU and the Schengen borderless travel zone, Hungary isn't supposed to just wave the migrants through. Under EU rules, asylum seekers must be registered in their first country of entry. If Hungarian-registered refugees were to then go elsewhere and have their asylum applications rejected, they could be sent back to their first country of entry: Hungary.
In reality, Orban isn't a stickler for EU rules. He's a populist with an intense dislike for Brussels and all it stands for. Hungarians, he has said, don't want immigrants -- they "want to preserve a Hungarian Hungary." It's a line that goes down well, and guards against his government being outflanked by the ultraright Jobbik party.
Nor does Hungary have an immigration problem, beyond the chaos Orban's policies have exacerbated. Few if any of the refugees entering the country want to stay, and Hungary has relatively few settled immigrants. Yet Orban is hardly alone in pandering to nativist sentiment. Other eastern European countries -- including the Czech Republic, Poland and Slovakia -- have also taken a hard line against accepting refugees, insisting they should be few and Christian. (Meanwhile, their governments insist on the right of their own citizens to migrate to Germany, the U.K. and other wealthier EU countries.)
This year's sharp increase in refugees bound for Europe admits of only one solution: The EU needs a system that fairly distributes applicants for asylum across the union, as the European Commission has proposed. Frontier nations such as Hungary would register their arrivals, sending all but their own small quota on to others.
The alternative to that coordinated response is rising populism and growing disorder. These could pose a real threat to both the Schengen area (Italy now says it is temporarily restoring controls at a crossing with fellow Schengen member Austria, at Germany's request) and the wider EU. If Hungary and the other frontier countries want their people to travel and work freely across the continent, and if they want to go on receiving generous aid from the richer countries, they will need to share a refugee burden that is now falling entirely on Germany and a handful of other nations.
Xenophobia might work for a while as smart domestic politics, but only at great cost -- worsening the refugees' plight, putting lives at risk and ultimately weakening the glue that holds the EU together.
(Corrects location of border crossing in eighth paragraph.)
To contact the senior editor responsible for Bloomberg View's editorials: David Shipley at davidshipley@bloomberg.net.