It's a Bad Time to Depend on China
Beijing is shedding its export-driven growth model.
by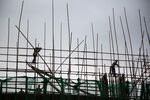 Now that Chinese industry is slowing down, countries that became dependent on its spectacular growth -- especially raw materials suppliers -- will need to adjust. In some cases, they'll have to reinvent their economies.
Global trade volume dropped by 1.5 percent in the first quarter, and by 0.5 percent more in the following three months. This was the worst fall in six years, and there's a lively academic debate as to why it happened. No explanation, however, fails to mention China's role in the abnormally high trade growth of the last two decades, a phenomenon best visualized by comparing the expansion of Chinese exports against that of the global economy:

China used its abundant and cheap workforce to produce competitively priced goods, exploiting this advantage to the fullest on the export market. China has, for example, used more favorable tariff rates for imports destined for processing and re-export, a business that accounts for between 30 percent and 50 percent of China's total trade, according to a recent paper by Jiansuo Pei, Cuihong Yang and Shunli Yao. 
This advantage has melted away in recent years, however. The average salary in China was $770 a month at the end of last year -- higher than the $591 in Russia and $632 in Romania; Made in China isn't always the best option now. 
Meanwhile, although domestic consumption is growing fast in China (up 10 percent year-on-year in the second quarter), it's expanding more slowly than five years ago (when retail sales growth approached 20 percent) and can't fully substitute for weaker exports. At the same time, the government has been trying to switch to "smarter," more services-driven growth. The net result is that industry's contribution to Chinese growth has been falling:

By now, any expansion in manufacturing appears to be petering out altogether. The official Purchasing Managers' Index was down to 49.7 percent in August from 50 in July, suggesting a contraction in output. A rebound could only be export-driven and the only quick way to make that possible would be to devalue the yuan even further than the Chinese authorities already have.
This is all bad news for countries that have gleefully fed the Chinese boom with their own exports, a long list. Exports to China have grown in importance to most Group of 20 countries in recent years:

Australia, Brazil and South Africa have become particularly dependent on their raw materials supplies to China. Russia, characteristically late to the party, is now trying to develop such a dependence, just when it's time to shed it. South Korea, whose exports to China are mostly finished goods -- ships, machinery, computer chips -- is feeling some pain, too: It saw an 8.8 percent year-on-year drop in shipments to China in August.
Most European countries and Turkey, by contrast, are fine: their exports are diversified enough for a China slowdown to pass them by. The worst cases of China-dependence are outside the world's 20 biggest economies: In 2013, China accounted for 90 percent of Mongolia's exports, 70 percent of Turkmenistan's (almost all natural gas) and 45 percent to 70 percent of those of Angola, the Republic of Congo, Gambia and Mauritania. In Africa, where China's role grew quickly in the 2000s, as other big players showed little interest, a drop in Chinese demand would be nothing short of a tragedy.
China never promised to be the global factory forever. Its export-driven model was fine for a while because it allowed for fast growth, but it also ruined the country's environment and made the economy dependent on foreign demand, which, as recent economic crises have proved, can be unreliable. This model is being gradually dismantled and those countries that built their own economic plans upon it need to rethink and prepare for slower growth.
This column does not necessarily reflect the opinion of the editorial board or Bloomberg LP and its owners.