Two Big Winners From China's Big Slowdown
South Korea and Philippines show not all emerging markets are the same.
by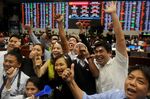 How panicked were investors last week about China's stock market plunge? Enough to treat the Korean peninsula, a place that was teetering on the brink of war, as a safe haven. Even as policy makers braced for renewed military confrontation between North and South Korea, the won staged a rally.