Clinton's Superdelegate Tipping Point
She has the nomination wrapped up.
by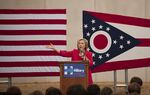 Mark Halperin and Jennifer Epstein, at Bloomberg Politics, report that Hillary Clinton's campaign is claiming commitments from as many as 440 superdelegates, perhaps giving her an insurmountable lead in the race for the approximately 2,250 delegates needed to win the Democratic nomination.
There is both more and less to this story.
For starters, superdelegates are formally unpledged delegates to the Democratic National Convention who are chosen by position, not through votes in primaries and caucuses. The two big groups are elected officials (members of Congress, governors) and party officials.
Superdelegates were added in the 1980s for two reasons. One was practical: It was the only way to ensure that those party leaders could get to the convention, at least as delegates. The other was political: Democrats were concerned that their new system didn't place enough weight on electability, and believed a larger voice for politicians and formal party leaders would tilt the nomination in that direction.
In the event, the "supers" have never tilted the nomination; they always line up with the candidate who won the most delegates in the caucuses and primaries. That's essentially what happened in 2008: Clinton had an early lead in superdelegates, but as Barack Obama started winning caucuses and primaries, he wound up picking up almost all the undecided supers and even some defectors from Clinton.
And the supers will go with the winner in 2016, too. It's technically possible for Clinton to win the nomination by dominating the superdelegate count even if she (narrowly) loses every state: Thanks to strict proportional allocation on the Democratic side, a candidate only gains a small delegate advantage for a small edge in primary votes. Realistically, however, politicians and formal party leaders would never go against a clear decision by voters. If Clinton lost every state, she would lose her superdelegates, too.
At best, the supers would serve as tiebreakers should Clinton and Bernie Sanders (or Joe Biden) wind up tied after the primaries.
In other words, Clinton's impressive haul of supers won't make any direct difference at the convention. So in terms of pure delegate counts, this isn't that big a story.
And yet, Clinton's appeal to superdelegates demonstrates her huge lead among party actors -- the politicians, campaign and governing professionals, formal party organization officials and staff, activists and donors, party-aligned interest groups and media. And that matters.
Yes, Clinton also had an early lead in the 2008 cycle, but this is different. The AP reported in early December 2007 that Clinton had 169 supers, only a few more than the 130 or so that have publicly committed to her so far, three months earlier in the process. In August 2007, however, Obama was a solid second with 63 supers, and other candidates had 86, meaning Clinton only had 53 percent of publicly committed superdelegates. We don't have a full public count this time, but given the tiny number of politicians supporting other candidates, it's likely Clinton has close to 90 percent or more of declared supers. And that's not even counting her campaign's larger claim, which includes private commitments, of 440 supers -- more than three times as many as she amassed in 2007.
Could all of this support disappear? Sure. But it will hold as as long as Clinton keeps her large polling advantage; nor are party actors likely to panic while Clinton is leading in head-to-head trial ballots against each of the Republican candidates.
I'll stick with what I've been saying since January. Clinton has essentially wrapped up the Democratic nomination. 
This column does not necessarily reflect the opinion of the editorial board or Bloomberg LP and its owners.