Jesse Jackson Created the Modern Democratic Party
His vision of culturally diverse liberalism paved the way for Obama, and beyond.
by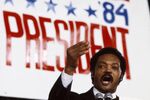 One of the more arresting moments in the presidential campaign came last week, when Hillary Clinton had a spirited exchange with activists from Black Lives Matter. "Look, I don't believe you change hearts," Clinton said, when pressed about her support for their goals. "I believe you change laws, you change allocation of resources, you change the way systems operate."