What the First Female Rangers Prove
We knew they were strong. And could fight. Now it's settled: They can lead the Army.
by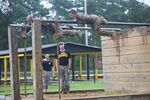 Ranger School was one of the first things I learned about when I came to work in military culture. Its mythology is inescapable, and I've seen its powerful effects on many soldiers of my acquaintance, arming them with mental and physical discipline, confidence, poise and endurance.