U.S. Told Ukraine to Stand Down as Putin Invaded
Moscow was emboldened when it got Crimea, not appeased.
by and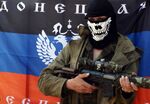 As Russian President Vladimir Putin's forces took over Ukraine's Crimean peninsula in early 2014, the interim Ukrainian government was debating whether or not to fight back against the "little green men" Russia had deployed. But the message from the Barack Obama administration was clear: avoid military confrontation with Moscow.