Corporate Japan Gets a Jolt From an Outsider
Sometimes you need a gaijin to shake things up.
by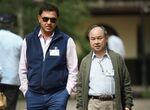 The word gaijin is used in Japan both to describe foreigners, and to suggest their inability to truly understand Japanese culture. The term no doubt came to mind Thursday when the non-Japanese president of the giant Internet firm SoftBank used his own money to place a big bet on the company.