Putin May Be Tiring of His Cronies
The ouster of the head of Russia's railroad monopoly suggests as much.
by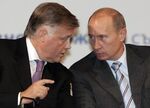 Vladimir Yakunin seemed eternal: Nothing he could do appeared to undermine his standing in the system President Vladimir Putin has built to run Russia. Yet now he is leaving the top job at the national railroad monopoly, after 10 years of mismanaging it.