China's Lenders Want to Check Your Social Media
Want a mortgage? Try unfriending your deadbeat pals.
by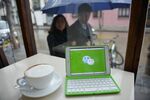 There have generally been two ways to get a bank loan in China: You either have lots of assets already, or you know somebody powerful enough to pull some strings. That may be about to change -- although, at first glance, the shift might not seem for the better.