No! The Dow Death Cross! (Oh, Never Mind)
In the long run, it doesn't amount to much.
by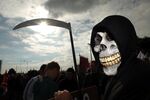 One of the themes we like to touch on in this column are heuristics. Myths that become Wall Street rules of thumb have existed for as long as there have been trading desks. They are legion, they pop up regularly and most of the time they are terribly wrong. Woe to the unwary trader who relies on the urban legends to inform an outlook.