Where Did Putin's Spokesman Get a $620,000 Watch?
An ostentatious display of wealth raises eyebrows, and questions.
by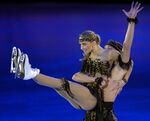 Dmitry Peskov, the spokesman for Russia's president, is known for a level of cynicism that sometimes surpasses even that of his boss, Vladimir Putin. Last weekend, though, Peskov inspired more soap opera than fear or loathing, as attention focused on his $600,000 watch and lavish wedding to a champion figure skater.
Presidential press secretaries are celebrities regardless of the country whose leader they serve: "You're mentioned in talk shows and written about in books," New York Times columnist William Safire was once quoted as saying. "Before long some start to feel as if they actually are a little president."
Peskov does often sound like Putin's alter ego, spouting disingenuous banalities to justify his boss's latest action or statement. When fugitive Ukrainian President Viktor Yanukovych surfaced in Russia after Ukraine's "revolution of dignity" last year, for example, Peskov spoke as if his choice of sanctuary were quite random: "Yanukovych is the legitimate president of Ukraine who is in the territory of the Russian Federation because men from Ukraine are allowed to come here freely." And he was as adamant as Putin in insisting that the unmarked soldiers and tanks that suddenly appeared in Crimea last year weren't Russian, until of course Putin admitted they were.
After the annexation of Crimea, however, Peskov's comments became too predictable to generate much news. A parody Twitter account called "Peskov's Mustache" attracted 102,000 followers and began to rival his relevance. But even that couldn't compete with the ex-diplomat's first wife, Ekaterina Peskova, when she shared the story of their split in the Russian edition of celebrity magazine Tatler last September.
"Two years ago the Peskovs' family life slipped on the treacherous Olympic ice," the magazine wrote, without mentioning the name of Peskov's new girlfriend -- an Olympic figure skater named Tatyana Navka. Peskova said her husband had been "scared" when she asked for a divorce and begged her to take him back. "Once you betray, you cannot win back trust," Peskova replied, according to her account in Tatler. 
The magazine also revealed that Peskov's abandoned wife was living the life of a wealthy socialite in Paris, and that his older daughter, Elizaveta, had attended a private school in Normandy. This raised eyebrows. Peskov hadn't worked a day in private business and his ex-wife had never done anything more lucrative than teach at an embassy school. Besides, Russia was locking down after Crimea. A number of Putin's close friends and allies, unable to travel to the West because of sanctions, proclaimed their loyalty to Russia and its tourist destinations. Peskov never commented on his ex-wife's lifestyle.
Then, Navka, who won a gold medal for ice dancing at the 2006 Winter Olympics, announced that she and Peskov would marry in Sochi, Putin's favorite Black Sea resort. The event took place in one of the town's most expensive hotels, the Rodina Grand, last Saturday. When I tried today to pre-book a night at the Rodina (which translates to English as Motherland) for the end of September, the cheapest room cost $500 per night. Peskov and Navka booked the entire hotel.
The guests reportedly had a great time, dancing to some of Russia's top pop acts. Photographs of Peskov kissing and hugging Navka appeared in the country's tabloid newspapers and circulated on social networks. Putin's longtime opponent, corruption fighter Alexei Navalny, however, was drawn to the distinctive watch with an exposed movement shaped to resemble a golden skull that Peskov wore in the wedding pictures. Navalny identified the timepiece as a Richard Mille RM 52-01, one of a limited edition of just 30, and wrote to a U.S. store that sells them to discover the price: $620,000. 
Peskov declared an income of 9.2 million rubles ($147,200) in 2014. There was no way he could have bought the watch on his legal income. "What we see in the photographs from the 'wedding of the year' is not just a wedding but a classic example of illegal enrichment," Navalny wrote. "He's got the money for a watch worth as much as an apartment but no legal income to buy such a watch." 
Responding to the outrage and derision on the social networks ("Don't get distracted, keep watching Ukraine, please," tweeted "Peskov's Mustache"), the presidential press secretary said the watch was a wedding present from Navka and that it was "very expensive indeed but much cheaper than certain people claim." Navka backed him up. "I'm an Olympic champion and I work a lot, including all summer," she told the tabloid Komsomolskaya Pravda. "Before the wedding, I wondered what I could get the man I love. And I found a solution and I bought this great watch."
The problem with Peskov and Navka's explanation is that the Kremlin spokesman had already been photographed wearing the watch 15 weeks before the wedding. That photo appeared on the Instagram account of Peskov's daughter from his first marriage, Elizaveta, who chose not to attend the wedding out of loyalty to her mother.
Peskov has not been forced to resign because of his $600,000 watch, as Polish Transport Minister Slawomir Nowak did in 2013 after failing to declare a Swiss chronograph worth a mere $6,600. On Monday, Peskov was back on the job, commenting on the formation of a "Ukraine Salvation Committee" by some Yanukovych allies in Moscow, including former Prime Minister Nikolai Azarov, the subject of an Interpol red notice for alleged embezzlement. "The Kremlin, of course, has nothing to do with this initiative," Peskov said.
The shameless display of wealth by bureaucrats has become a feature of Putin's regime. The public is not supposed to know or care where the money comes from: All weekend, Kremlin trolls on social networks ridiculed posters who questioned the origins of the Peskov watch. The general public has put up with this for years in exchange for a slice of Russia's oil prosperity. Now that the price of oil is slumping again, threatening to fall below the $50 per barrel on which Russia's 2015 budget is based, Putin and his men ought to be more careful. Russians are patient, but prolonged economic hardship may make them question whether these people should really treat the country as if they owned it. 
This column does not necessarily reflect the opinion of the editorial board or Bloomberg LP and its owners.