Two Points for Austerity: Spain and Ireland
These bailed-out countries are recovering nicely.
by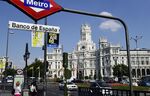 Spain and Ireland now have the euro zone's most dynamic economies: The International Monetary Fund expects Spain to expand by 3.1 percent this year and Ireland, by 4 percent -- realistic expectations, in light of their progress in the first six months. Given this performance, one has to wonder how long any economists can continue to condemn austerity as deadly poison based on the example of Greece.