How to End Partisan Gridlock, India Edition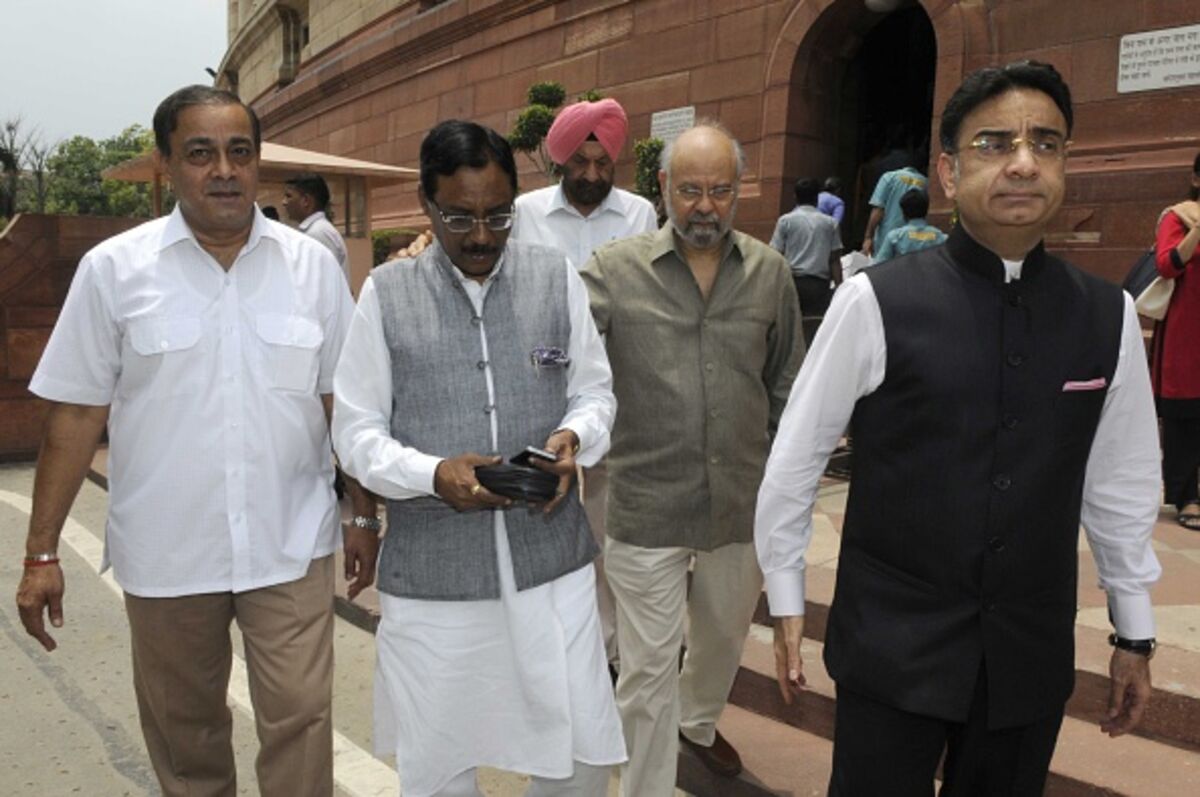 Attending parliament's monsoon session.
Photographer: Sonu Mehta/Hindustan Times/Getty Images
Like legislators everywhere, opposition members of India's parliament would prefer to focus more on the failings of the ruling party than on their own. They need to shift their attention -- and Prime Minister Narendra Modi is going to have to find a way to work with the very politicians he so soundly defeated last year. 
Three days into its "monsoon" session, parliament has yet to conduct any real business, let alone enact economic reforms the country so badly needs. Neither Modi nor India can afford the delay. Industrial production in India remains sluggish a year after Modi swept into power, while private and public investment is lackluster. Once-frothy investor optimism is waning; after climbing 30 percent in 2014, the benchmark index has barely budged this year.
Several vital reforms are on the table for this session of parliament -- most important among them, instituting a nationwide goods-and-services tax -- but the opposition Congress Party has seized upon a pair of political scandals to paralyze the parliament. Legislators are refusing to allow any debate until three members of Modi's Bharatiya Janata Party resign over influence-peddling charges. It's a cynical tactic, yet perhaps the only tool at the weakened Congress's disposal. 
If the GST is to be in place by next spring, as planned, lawmakers have to pass legislation this session. Compromise should be possible: Congress first introduced the idea of the tax when it was in power in 2006, and several of the changes it's now demanding would represent improvements. Embracing some of them might allow Modi to outmaneuver holdouts in his own party, including chief ministers who are worried about a drop-off in state revenues.
Even to get to that point, however, Modi has to give a little, by personally addressing rather than dismissing the ongoing scandals. Sushma Swaraj, the external affairs minister charged with helping a fugitive Indian tycoon obtain travel documents, has offered to defend herself in parliament. But Modi himself shouldn't shy away from questions.
The other scandal -- involving a years-long scam to buy access to government jobs and educational institutes in Madhya Pradesh -- may not be, as the BJP argues, a matter for debate in the national parliament. Nonetheless, Modi should make clear he won't tolerate any interference from BJP figures in the ongoing probe. 
For its part, Congress should be able to meet the prime minister halfway. Voters turned their backs on the party last May because it lacked any appealing vision for moving the country forward. Obstructionism now won't change voters' minds.
To sidestep the gridlock in Delhi, Modi has already begun devolving to India's states responsibility for some of his more controversial reforms -- changes to land-acquisition laws, for instance. That's as it should be: State governments can better tailor changes to local conditions, and competition among the states could push progress. But that doesn't mean the prime minister can afford to write off parliament. Certain policies, including revisions to India's ossified labor laws -- something Modi is just beginning to discuss with unions -- will require action from the central government. Elected to make bold decisions, Modi must also know when to compromise.
To contact the senior editor responsible for Bloomberg View's editorials: David Shipley at davidshipley@bloomberg.net.