There's Just One Way to Reach 4 Percent Growth
Immigration, and a lot more of it.
by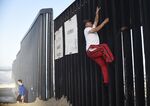 When the George W. Bush Institute commissioned Nobel-winning economist Edward Prescott to analyze its proposal to generate 4 percent annual growth for the U.S., the famously pro-free-market Prescott replied that a target of 3 percent was better for the long run. Prescott isn't alone in his evaluation; most economists and policy specialists don't believe that the U.S. economy can grow at 4 percent in the long run, no matter what policy steps we take. I've added my voice to that skeptical chorus on more than one occasion after Jeb Bush embraced the 4 percent target.