view
Iran's Main Enemy Is Within
Access to oil and gas markets won't be enough to revive the country's economy.
by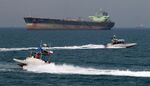 Iran's government is basking in anticipation of the economic boom that lifting international sanctions will bring, particularly in the country's dominant oil and gas sectors. But sanctions aren't all that's held Iran back in the past.
Three pragmatic or reformist governments have held power since the revolution, headed by Presidents Ali Akbar Hashemi Rafsanjani (1989-97), Mohammad Khatami (1997-2005) and Hassan Rouhani (since 2013). Each began with promising economic reforms and improvements in foreign relations, but Rafsanjani and Khatami ultimately failed, defeated by entrenched opposition within the regime. Rouhani could easily share their fate.
Success will depend on Rouhani's ability to ignite growth in the oil and gas sectors, which account for 22 percent of gross domestic product and 27 percent of the 2015-2016 budget (figures that will increase once full-scale oil exports resume). Even before Tuesday's deal on Iran's nuclear program triggered euphoria in the streets of Tehran, oil minister Bijan Namdar Zanganeh had been laying the groundwork.

Zanganeh has begun to restore lost professionalism to the energy bureaucracies and has understood that the so-called "buyback" contracts introduced under Rafsanjani and continued under Khatami were a disaster. They took too long to negotiate, imposed too much risk on the foreign contractors without compensatory rewards, and gave them no incentive to maximize output or reserves.
The biggest problem for the expansion of Iran's energy sector, though, was Iranian indecision and infighting. In Khatami's second term as president, conservative forces rallied. Oil and gas production had expanded significantly following deals with Total, Shell, Statoil, Petronas and others, but then parliamentary reviews of contracts and allegations of corruption brought the process to a halt. Under President Mahmoud Ahmadinejad, Rouhani's hardline predecessor, corruption soared. The Revolutionary Guard, known to Iranians as the Sepah, extended its stifling grip into the oil and gas industries.
This history matters greatly to Rouhani and his team, because they have a limited window in which to demonstrate improvements in the economy. They will need to quickly attract foreign investment and know-how to the energy sector, and that will require action in three areas.
First, Zanganeh needs to cautiously purge the continuing influence of the Sepah from his ministry and the National Iranian Oil Company; foreign companies will not invest in projects knowing they will end up in bed with the Revolutionary Guard.
Second, the Iranian government needs to present an attractive fiscal regime for investment in the oil sector. Officials have already drafted a new "Iran Petroleum Contract" that promises a substantial improvement over the buybacks, as well as over the contracts offered to investors in neighboring Iraq. But good contracts aren't enough. If projects are awarded by negotiation, that process needs to take months, not years, as in the past. If they are awarded by competitive bid, the auctions need to be transparent, attract multiple bidders and avoid the "winner's curse," by which a company offers terms so disadvantageous to secure the project it becomes uneconomic.
Third, and perhaps most important, the energy sector needs a clear strategy. Some aspirational targets have been announced -- for example, to reach 5.7 million barrels per day of crude oil production within four years (from 3.6 million barrels in 2011, the last full year before stringent sanctions). A fuller plan will be needed.
Strategy is even more important in gas than in oil. Under Khatami, Iran dithered between prioritizing gas production for use in exports, domestic industry and electricity generation, or injection into oil fields to improve recovery. Moreover, Iran faces an unpromising international outlook. Liquefied natural gas -- the only way Iran can reach East Asia -- will be in oversupply until the early 2020s at least; the European market is stagnant; and Russia has moved to forestall Iran via deals with Turkey and in northern Europe.
Nevertheless, Iran could be exporting gas to Iraq, Pakistan and Oman in the relatively near future. If political suspicions can be overcome, Iran could also become a key regional supplier to India and Gulf neighbors such as Kuwait and the United Arab Emirates. All of this, however, would demand timely planning and new transit infrastructure.
International investment can build a constituency in Iran that benefits from openness and trade, creating a greater incentive to forgo a nuclear weapons program as the current deal expires. But time is short for Rouhani to succeed. In this, external opponents won't be his main problem, but those within.
To contact the author on this story:
Robin M. Mills at rmills@brookings.edu
To contact the editor on this story:
Marc Champion at mchampion7@bloomberg.net
Before it's here, it's on the Bloomberg Terminal.
LEARN MORE