Iran's Main Enemy Is Within
Access to oil and gas markets won't be enough to revive the country's economy.
by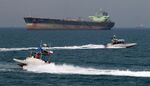 Iran's government is basking in anticipation of the economic boom that lifting international sanctions will bring, particularly in the country's dominant oil and gas sectors. But sanctions aren't all that's held Iran back in the past.