The Hackers Behind Pages of 'Ghost Fleet'
Fun summer read raises interesting questions about tech.
by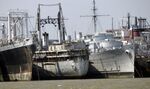 It's easy to see why "Ghost Fleet" has captured the imaginations of foreign policy experts in the U.S. and abroad. The techno-thriller, by P.W. Singer and August Cole, not only tells a crackling-good story but also casts light on the warnings that have come from many quarters about the risks of offshoring U.S. defense procurement.