view
NFL Is Out of Excuses on Domestic Violence
Greg Hardy was lucky. Ray McDonald will test the league's seriousness.
by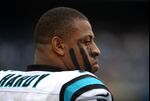 Greg Hardy's suspension for domestic violence was reduced by an arbitrator from 10 games to four, seemingly another case of the NFL's arbitrary and inadequate disciplinary process. The truth is, Hardy's case sets up the first true test of the league's promise to get serious in punishing players who commit acts of violence against women.
Surely, reasonable people can agree that choking a woman and throwing her onto a pile of assault rifles deserves more than a four-game suspension. 1 Hardy, now a Dallas Cowboy, was found guilty of doing just that, but his conviction was later overturned when his victim failed to appear at his appeal. I'm not going to go into the many reasons victims often don't testify against their attackers, especially NFL players, but you should read Travis Waldron's excellent piece breaking down the complexities involved. Further complicating matters are the ways in which the criminal justice system actually punishes victims who do come forward. Suffice it to say, Hardy's avoiding jail time in no way invalidates the crime for which he was initially convicted.
It's understandable, then, that many commentators reacted to arbitrator Harold Henderson's decision indignantly -- myself included. There's no justice to be found in the fact that as of now, Hardy stands to lose as many weeks' paychecks for a domestic violence incident as Tom Brady does for probably, maybe, perhaps allowing some footballs to be deflated. It simply furthers the warped conflation of off-the-field, violent crimes with on-the-field infractions. It's yet another instance of wildly inconsistent NFL "justice" -- but probably, maybe, perhaps, hopefully it's also the last.
As ESPN's Kevin Seifert notes, Hardy is the last domestic violence case pending under the NFL's old personal conduct policy, which came under fire after it yielded a meager two-game suspension for Ray Rice. In the wake of the outrage, the NFL haphazardly slapped together a new policy and attempted to right the wrongs of the immediate past by retroactively disciplining Rice and Adrian Peterson under the new terms. Both players ultimately won their appeals, successfully arguing that the league punished them by the new standards for acts that took place under the old system, and even violent abusers deserve due process. In fact, it was Henderson's arbitration award initially upholding Peterson's indefinite suspension that was vacated by a federal judge, who wrote that Henderson "exceeded his authority." 
Henderson may well have been wary of making that mistake again, ruling that Hardy's initial, 10-game suspension was "too much ... of an increase over prior cases without notice such as was done last year," when the new policy set the minimum suspension for domestic violence at six games. The old policy prevented the league from properly disciplining Hardy -- but as Seifert points out, that's no longer the case going forward. The NFL won't have the excuse of "precedent" to fall back on if and when it goes soft on a player for domestic violence.
And we won't have to wait long to see the first test of the NFL's supposed resolve to "get it right." Former San Francisco 49er (and, briefly, Chicago Bear) Ray McDonald might have been cleared by the league for a felony domestic violence arrest that occurred three days after the new personal conduct policy was announced, but he shouldn't be able to avoid discipline again after being charged last week with felony false imprisonment, misdemeanor domestic violence, child endangerment and violating a court order to stay away from his victim.
According to the police report, McDonald assaulted his then-fiancée while she was holding their two-month-old baby back in May -- the same woman he was accused of attacking in the August incident that was dismissed for insufficient evidence. The case has all the patterns and pitfalls of domestic violence cases involving NFL players: The woman said she had been attacked many times in the past but didn't report it because "she felt they could work out their problems, and that criminal charges would jeopardize McDonald's career as a professional football player." The justice system failed to prosecute back in August, and the NFL followed that dubious lead. McDonald was then free to attack the woman again -- an encounter she managed to partially capture on video, making it much harder for McDonald apologists to question her story or motives.
And now we get to see how the NFL handles McDonald in this ostensibly new era of appropriately punishing domestic abusers. In addition to the baseline suspension of six games, the new policy calls for more if there are "aggravating factors," which include violence in the presence of a child. That the victim was holding a baby at the time could open the door for a harsher penalty.
The NFL's decision on McDonald will be important to track. But it will be just as important that fans and the press not become complacent if the league does end up properly disciplining this one player. The personal conduct policy remains highly subjective, and it's not enough for Commissioner Roger Goodell to simply make an example out of McDonald to demonstrate he's tough on crime.
Furthermore, we can't forget that while the league has also attempted to push its new outreach measures to combat domestic violence, including identifying "at-risk" players and families, it utterly failed at this in investigating and clearing McDonald's August incident. One wonders just how effective the league can or wants to be in this area if its team of lawyers, investigators and domestic violence experts saw no warning signs from a player whose girlfriend says he beat her frequently and who had also been accused of sexual assault.
Let's hope that with McDonald's case, the NFL will finally take a strong stand for justice against domestic violence. If not, future victims will be subjected to the same inconsistencies, legal fights and judicial backtracking we've seen in recent years -- the old system under a new name. 
Yes, Hardy also missed 15 games last season after being placed on the Commissioner's Exempt List while the league sorted out his punishment, but he still got paid and it certainly didn't affect his market value, as the Cowboys offered him a deal worth up to $13 million this season. 
To contact the author on this story:
Kavitha A. Davidson at kdavidson19@bloomberg.net
To contact the editor on this story:
Tobin Harshaw at tharshaw@bloomberg.net
Before it's here, it's on the Bloomberg Terminal.
LEARN MORE