Why You Should Short Public Oil Companies
Oil isn't doomed. But public oil corporations might be.
by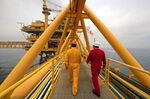 U.S. coal companies have lost about 75 percent of their market value during the bull market that began in 2009. Oil and gas companies, which account for 60 percent of U.S. carbon emissions, and about 84 percent of fossil fuel market cap, have fared much better. But risks abound.