Reinvent the Export-Import Bank
Have it act like a venture capitalist.
by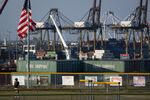 The Export-Import Bank is probably dead. Yes, technically, it's only temporarily out of action because a handful of Republicans are preventing a floor vote on its reauthorization. But the Republican crusade against the government-run trade credit provider has demonstrated to U.S. exporters that they won't be able to rely on Ex-Im funding in the future. That means they won't budget Ex-Im funding into their plans, making the agency somewhat superfluous even if it does manage to survive. Once again, conservatives have managed to smash a U.S. government institution.