Recycling Industry Created Its Own Mess
American trash habits changed. Recycling companies didn't.
by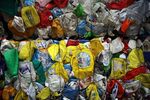 The American recycling business is in the dumps. According to Dave Steiner, the CEO of Waste Management, America's largest recycling company, the industry is experiencing a "national crisis," with almost all of America's 2,000 high-tech recycling facilities -- including Steiner's own -- running in the red. Things are so dire that some recyclers are preparing to do the once-unthinkable: charge cities and their residents for accepting their recycling.