view
Recycling Industry Created Its Own Mess
American trash habits changed. Recycling companies didn't.
by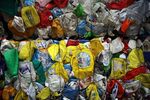 The American recycling business is in the dumps. According to Dave Steiner, the CEO of Waste Management, America's largest recycling company, the industry is experiencing a "national crisis," with almost all of America's 2,000 high-tech recycling facilities -- including Steiner's own -- running in the red. Things are so dire that some recyclers are preparing to do the once-unthinkable: charge cities and their residents for accepting their recycling.
The recycling industry likes to imply that the American public, and its allegedly lax recycling habits, bear responsibility for its sinking fortunes. But before reaching for their wallets, Americans ought to scrutinize why exactly recycling companies' promises of a low-cost green future didn't pan out. The real turning point wasn't a decline in Americans' interest in recycling, but a gradual shift in what Americans started throwing away -- one that many recycling companies could have, but failed to, prepare for.
The recycling industry's refusal to evolve with America's changing relationship with print newspapers is a case in point. According to the American Forestry & Paper Association, between 1994 and 2014, U.S. newspaper recycling rates rose from 49.8 percent to 68.9 percent, the product of recycling companies' expansion of curbside recycling programs across the United States. But expanding recycling rates were accompanied by a worrying trend: Thanks to the Internet, the actual volume of newspapers that has ended up in bins declined during that 20-year period, from 15.81 million tons to 7.89 tons. In other words, the U.S. recycling industry has been spending a lot more money to collect a lot less paper.
Unfortunately, the industry failed to change its infrastructure in response to America's changing reading habits. The high-tech Municipal Recycling Facilities that many recycling companies built during the recycling boom of the 1990s and 2000s were designed to handle -- and profit from -- lots and lots of paper. The recycling industry managed to ignore the hollowing out of its business model for a few years because China's commodity boom drove up the price of most recyclables, including paper. But once the commodity boom went bust in the early 2010s, U.S. recyclers lost their cover.
The recycling industry has faced similar issues in dealing with containers, which comprise the largest category of American waste (29.8 million tons according to the EPA's 2013 numbers). Thanks to efforts by manufacturers to reduce costs and reduce environmental impact, packaging has gotten increasingly light in recent years. The average weight of an aluminum beer can, for instance, declined 38 percent between 1972 and 2014, according to the Aluminum Association. Producers and distributors save money from that kind of shift, but it confronts the recycling industry with a new challenge. In 1990, a recycler would have needed 29 beer cans to make a pound, but needs 34 today: For recyclers dealing with thousands of tons of containers every year, that's a recipe for higher costs and shrinking margins.
Still, this is a problem that should have been relatively easy to solve, at least in regions with single-family homes: The recycling industry could have simply replaced the small blue bins they distribute to households with large recycling carts. When Hillsborough County, Florida, rolled out carts in 2013, it saw an 85 percent increase in recyclables annually, from 32,000 tons to 60,000 tons. It's not a perfect solution -- bigger bins mean people tend to toss more than just recyclable garbage into them, raising costs for recycling companies. But bigger bins also tend to mean more recyclables, which means more chances for recyclers to make money.
To be fair, if the recycling industry's problems were confined to shrinking volumes of recyclables, it probably wouldn't be facing an outright crisis. The bigger problem is the expanding proportion of recyclables that are made of difficult-to-sort materials. While paper has declined 22 percent as a percentage of the overall waste stream since 2000, and metal has remained stagnant, plastics, which are notoriously expensive to recycle, have increased 27 percent, according to the EPA's recent study. Plastics tend to take up more space on delivery trucks (compare a pound of empty detergent bottles with a pound of newspapers), and they're being produced in increasingly complicated shapes and forms that recycling lines aren't designed to recognize.
But even here, the recycling industry has ways to mitigate the challenge. Recycling companies could solve some of its plastic-sorting problems through technology investments (and recyclers should have made those investments during the boom years, when they were able to afford them). And recyclers could also improve their bottom lines by doing a better job of communicating best practices to cities and consumers. (Plastic bottles shouldn't be crushed, for example, because it makes them hard to recognize on the production line.)
As the CEOs of America's biggest recyclers are all too willing to point out, recycling programs face plenty more problems, including rising labor costs and falling commodity prices. But recycling companies can't evade their own responsibility for the industry's woes. For years, they failed to acknowledge that their previously profitable business models no longer matched the reality of American trash habits. What's most disappointing is that, having contributed to this mess, America's recycling companies expect the country's home recyclers to pay to clean it up. 
(Corrects last name of Waste Management's CEO in first paragraph of article published July 7.)
To contact the author on this story:
Adam Minter at aminter@bloomberg.net
To contact the editor on this story:
Cameron Abadi at cabadi2@bloomberg.net
Before it's here, it's on the Bloomberg Terminal.
LEARN MORE