Samsung Group Is Doing a Cozy Merger
Lord, grant me good corporate governance, but not yet.
by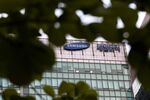 A South Korean court on Tuesday ruled against Elliott Associates LP in its activist fight over a proposed merger of Samsung C&T Corporation. I have said before that if Elliott were suing in Delaware, I'd like its chances. Of course, it's not suing in Delaware -- it's suing in South Korea -- but this merger, from let us say the standpoint of American corporate governance, looks awfully kooky. 
Samsung C&T Corporation is, as its initials suggest, a construction and trading corporation. It does some construction and some trading. But it also owns a lot of stock in other publicly traded companies in the broader Samsung group. Most notably, it owns about 4 percent of Samsung Electronics, worth about 7.6 trillion won ($6.8 billion). If you add other publicly listed equity stakes, you get a total of about 11.8 trillion won ($10.6 billion). 1  
Then there is the construction and trading business, which has some assets and some debt and some income and is worth some amount of money. 2  For our purposes, the exact amount doesn't matter much; it's enough to know that it seems to be more than zero. The book value of C&T, excluding the public equities, is about 2.1 trillion won. 3 Elliott calculates the value of the business (excluding public equity stakes but including private ones) at about 4.2 trillion won ($3.8 billion). 4  Zero seems like a pretty safe lower bound.
That means that Samsung C&T should be worth at least as much as the total value of its transparently traded, publicly listed equity stakes. Or, at the very least, it should be worth as much as those stakes net of tax, since if it sold those stakes for cash it would need to pay 24.2 percent capital gains taxes. So, after deducting for tax and counting its core business as worth nothing, C&T is worth a minimum of 9 trillion won.
On May 26, C&T announced that it would be acquired by Cheil Industries, another company in the Samsung group, in an all-stock deal in which C&T shareholders will get a total of about 55 million new Cheil shares, at a ratio of 0.35 Cheil shares for each C&T share. At the time, Cheil shares traded at 163,500 won, meaning that the deal was worth about 8.9 trillion won. (Also at the time, C&T's public equity stakes were worth a bit more than they are now -- about 12.5 trillion won, or 9.5 trillion after tax.) So C&T shareholders were getting paid considerably less in the merger than the easily calculable value of the public stocks that C&T owns, and C&T's operating business was being valued at considerably less than zero.
That seems ... odd? Why would you sell your company for less than nothing? It seemed odd to Elliott, anyway, which announced that it owns a 7 percent stake in C&T, launched a proxy fight to stop the merger, and sued to block it in court. Elliott's theory seems to be that the boards of both Cheil and C&T were acting on behalf of the Lee family, which controls the Samsung group and which is preparing "for a once-in-a-generation leadership transition from hospitalized Samsung patriarch Lee Kun Hee." Those preparations include consolidating holdings that are now spread out among a bunch of public companies, which all own stakes in each other as part of the Samsung group/chaebol/ouroboros. (C&T itself owns 1.4 percent of Cheil.) That complex ownership mechanism makes it hard to efficiently manage and transfer the Samsung group's assets, so the group is consolidating. And since the Lee family owns a much higher percentage of Cheil -- "the de facto holding company" of the group-- than it does of C&T, a consolidation that favors Cheil would be in its interests. Elliott argues:
The attempt by the boards of Samsung C&T and Cheil Industries to force through this unlawful takeover proposal represents an effort to divert, without any compensation, more than 58% (equivalent to approximately KRW7.85 trillion) of Samsung C&T's net assets out of the hands of the shareholders of Samsung C&T and into the hands of Cheil Industries' shareholders.
You don't have to agree with, or even check, Elliott's math -- which finds both undervaluation of C&T and overvaluation of Cheil -- to take the general point, which is that Cheil sure looks to be buying C&T for less than it's demonstrably worth.
In the U.S., a company selling itself to a related company would want to be very careful to build a record demonstrating that its decision was made independently (e.g. by a special committee of independent directors) and that it negotiated for the best possible price for its own shareholders. In South Korea, though, the situation is different. For one thing, you can't negotiate for the best possible price: In an all-stock merger, the exchange ratio is fixed by law based on the ratio of the market prices of the two companies involved over the previous month. 5  The idea is that the board has no opportunity to negotiate an unfair exchange ratio: The market has already figured out the fair ratio, and the board just uses that. 
But this logic -- that the market knows what's fair and a market exchange ratio ensures fairness -- breaks down when you have a related group of companies that work closely with one another and that are planning to consolidate. Normally, if you think Cheil is overvalued and C&T is undervalued (as Elliott does), you'd sell Cheil and buy C&T, which would tend to drive their prices back to fair value. But if you know that a merger is likely -- because it's a critical part of the Lee family's transfer of power -- then you'd do the opposite. You know the merger will be at a mechanically computed ratio that overvalues Cheil and undervalues C&T. So you should buy Cheil and sell C&T, because the merger will -- as Elliott argues -- transfer value from C&T shareholders to Cheil shareholders, and you want to be on the winning side of that trade. And so C&T will trade below its net asset value -- in fact it was trading below the value of its public equity holdings alone -- because of the likelihood that a chunk of that value will be transferred to Cheil.
Also, while the directors don't get to pick the exchange ratio, they do get to pick the timing. So when the deal was announced on May 26, the Cheil/C&T price ratio had been moving steadily in Cheil's favor for the previous month or so, making it a very good time for Cheil to agree to the deal, but, again, an odd time for C&T:
By my math, if the merger had been announced a month earlier, the exchange ratio would have been about 0.4 Cheil shares per C&T share instead of 0.35, giving C&T shareholders 32 percent of the combined company instead of 29 percent. 6  
This all looks a bit dicey to Elliott -- and to me! 7 -- but the rules are the rules, so yesterday Elliott lost in its effort to block the deal in court:
"The merger ratio was measured based on relevant laws," the court said in today's statement. "Therefore, we can't say the merger ratio of this case is significantly unfair."
It sure does look unfair though: The Korean law, intended to prevent unfair stock-for-stock mergers by fixing the exchange ratio at a market value, seems to have had the effect here of encouraging an unfair deal.
Elliott might still win in its effort to block the deal in a proxy fight. Samsung C&T's stock is still trading a bit above the merger price, 8  suggesting that at least some investors are holding out hope for a better deal if Samsung C&T can't get the required two-thirds majority in its July 17 vote. That involves another legal question that the court hasn't yet decided:
Elliott's other injunction is trying to stop KCC Corp., an ally of the Lee family, from voting Samsung C&T treasury shares it bought on June 11 in favor of the deal. The court said today it would make a decision before the shareholder meeting.
KCC owns 10.2 percent of Cheil and 6 percent of Samsung C&T, so its incentives are also to favor Cheil. And it acquired most of those C&T shares in ... odd circumstances: Samsung C&T had held them in treasury (where they couldn't vote), and then sold them to KCC (which could vote them), on the record date for the merger vote. C&T was clear that the purpose of the sale was to line up friendly votes. From its press release:
The sale is aimed at ensuring a seamless merger with Cheil Industries by increasing the portion of friendly shares, as well as improving the financial structure of the company with additional liquidity.

With this sale, the company seeks to enhance synergies and fulfill the aims of the merger through a smooth merger process while enhancing its financial structure and securing financing for appraisal right claims.
Again: In Delaware, it would be a little awkward for a merger target to sell shares to a shareholder of its acquirer just to thwart a shareholder vote against the merger. I'm not sure it couldn't be done, but it would, you know, get a pretty close look. Certainly you wouldn't say in the press release that the purpose of the transaction was to mess with the shareholder vote.
Either way, Samsung and Elliott will run the proxy fight down to the wire. Amusingly, Samsung's tactics in the proxy fight include an Augustinian promise of better governance:
Cheil Industries Inc., the Samsung conglomerate's de facto holding company, said Tuesday it will boost dividends and establish a corporate governance committee -- but only after a contentious merger with Samsung's construction and trading company is approved by shareholders.
So far friendliness to outside shareholders doesn't seem to have been high on the Samsung group's list of priorities. Maybe one day it will be -- when it no longer matters.
To contact the author on this story:
Matt Levine at mlevine51@bloomberg.net
To contact the editor on this story:
Tobin Harshaw at tharshaw@bloomberg.net
Before it's here, it's on the Bloomberg Terminal.
LEARN MORE