'Affirmative Consent' Will Make Rape Laws Worse
An effort to reduce confusion and fear would actually add both.
by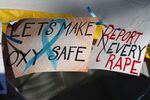 The "tough on crime" posture is going out of style, even on the right, except when the crime in question is rape. Advocates complain that it is too hard to lock up predators. And so, according to Judith Shulevitz, the American Law Institute, an influential, invitation-only body that publishes model codes and other suggestions for legal reforms, has been considering how we could make the law harsher.