Why Russia Still Attracts Immigrants
Abundant menial jobs and cheap money transfer networks are a draw.
by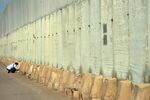 Russia isn't often thought of as a country of immigration. Yet the country's enormous territory and shrinking indigenous population invite a striking number of immigrants: Last year, despite the collapse of  oil prices and the Ukraine crisis, Russia was the biggest originator of migrant workers' remittances in Europe.