Want a House? Good Luck With the Down Payment
Lenders have eased, but buyers still need a bundle for a mortgage.
by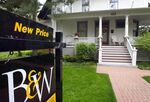 Saving for a down payment has long been a big challenge for anyone who wants to buy a home. And it got harder after the financial crisis, as lenders insisted on down payments of 20 percent or more for conventional mortgages, which make up the bulk of the market.