Canada, Tomorrow's Superpower
It just needs more people.
by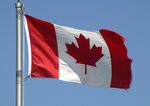 I just finished reading Adam Tooze's "The Deluge," a history of how U.S. economic power changed the course of history during the world wars. It's almost impossible for people today to realize what a big shift this was -- to much of the world's population, the U.S. has always been the Big Country, the driver of markets, innovation and geopolitical stability.