Don't Blame Amazon For Dumbing Down Literature
Shrewd booksellers have always given readers what they want.
by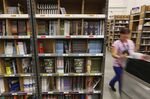 You might never have heard of Charles Edward Mudie, but in the middle of the 19th century he was the largest buyer of books in the world. Mudie, a British publisher and proprietor of a hugely successful for-profit lending library, was so powerful that his fellow publishers hesitated to sign writers whose works he refused to carry. He was feared by working novelists, many of whom rewrote portions of their books to avoid his censure.
The story of Mudie comes to mind in the wake of the contretemps over the anti-Amazon lament recently posted at Book View Café by Ursula K. Le Guin, one of the most prominent science fiction writers in the history of the genre. Her gender-challenging masterpiece "The Left Hand of Darkness," published in 1969, should rank among the greatest literary works of the 20th century. But now, according to Le Guin, Amazon's quest for short-term sales is destroying serious literature.
Her argument has drawn both plaudits and criticisms. I think Le Guin is half right -- or, more to the point, she has identified the correct problem but chosen the wrong villain. She is blaming Amazon for a huge shift in consumer taste, a wave Amazon may be riding but did not create.
Le Guin is angry about what she calls the "BS Machine." (No, no, the letters stand for "best-seller.") "The readability of many best sellers is much like the edibility of junk food," she writes. Nicely extending the metaphor, she warns of the effect of the books we consume: "I believe that reading only packaged microwavable fiction ruins the taste, destabilizes the moral blood pressure, and makes the mind obese."
Le Guin is right that the public's taste is changing and that the literary novel is having trouble finding an audience. Book sales were up considerably in 2014 compared with 2013, but the driver was the young adult category. 1  Serious fiction rarely gains a wide readership any longer, even when it wins a major prize.
The mass culture has been convicted of killing off serious writing for about as long as there has been a mass culture. One is reminded of the late John Gardner's complaint that due to the public taste, there are no longer any major American writers -- a complaint he uttered around 1979. James Whitcomb Riley's elegy on the subject, "The Little Old Poem that Nobody Reads," was written in 1879. My own father, borrowing a 19th-century pejorative, used to rail against the "penny dreadfuls" that he caught me reading -- in particular, science fiction.
Still, the decline matters. I have argued for years that the decline of serious fiction damages our taste for serious argument. The "obese" minds against which Le Guin warns are the same minds that gorge themselves on political slogans and lists of people to hate. We've developed the preference for simplicity against which Ray Bradbury warns in "Fahrenheit 451," where, lest we forget, book burning began as a bottom-up phenomenon, a desire to rid the world of complexity.
Yes, the attention span is shorter. Yes, young people are reading less than before. As several reports from the National Endowment for the Arts have noted, the audience for books is aging. The Internet is a treasure, but just as it's dampened curiosity and altered what we mean by knowledge, it's changed the way we consume writing, pushing writers toward the short and quick. What's less clear is why any of this is Amazon's fault.
Here's what Le Guin says Amazon prefers: "Its ideal book is a safe commodity, a commercial product written to the specifications of the current market, that will hit the BS list, get to the top, and vanish." The book of true quality that cannot find an audience, she says, nowadays becomes swiftly unavailable.
Again, the parallel to Mudie is striking. Here's the Times of London, in 1859: "Week by week and month by month he announces in various journals and magazines all the books which ought to be read; and authors run over the list with trembling to see whether Mr. Mudie esteems their volumes worthy of mention, and has purchased 2,500 copies or only 200. ... To be unknown to Mudie is to be unknown to fame; to bask in the smiles of Mudie is to put on immorality, and feel all the future in the instant."
Mudie was the largest and most powerful book distributor of his time. But he didn't create the public's taste. He exploited it. In the Victorian era, readers demanded stories stripped of objectionable material. Mudie met that demand. His market power was such that he was able to push for lower prices, therefore widening readership among the middle classes.
Soon, however, competitors entered the market, and Mudie's influence waned. Dissenting novelists, Charles Dickens and William Thackeray prominent among them, railed against Mudie and found ways to get around him. For example, Mudie pushed publishers to bring out novels in three volumes, so that the customers of his library could borrow each in turn. Dickens and Thackeray serialized their novels monthly as a way around Mudie's stranglehold.
Most important, the public's taste changed. People were ready for what I suppose we would now call edgier fiction. As the demands of readers changed, the publishing market evolved to meet them. Le Guin seems to think that we have reached a point where the public taste is irredeemable. I hope she's wrong in thinking that literature is dead. But if she's right, Amazon didn't do this to us. We did it to ourselves.
This column does not necessarily reflect the opinion of Bloomberg View's editorial board or Bloomberg LP, its owners and investors.
Book sales fell 7.5 percent in the first two months of 2015 from the same period last year, led by a plummet of 15.5 percent in that same heretofore vibrant children's and young adult market.
To contact the author on this story:
Stephen L Carter at scarter01@bloomberg.net
To contact the editor on this story:
Stacey Shick at sshick@bloomberg.net
Before it's here, it's on the Bloomberg Terminal.
LEARN MORE