Iran Spends Billions to Prop Up Assad
Yet Obama insists Iran support is a relative pittance.
by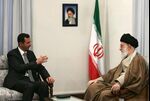 Iran is spending billions of dollars a year to prop up the Syrian dictator Bashar al-Assad, according to the U.N.'s envoy to Syria and other outside experts. These estimates are far higher than what the Barack Obama administration, busy negotiating a nuclear deal with the Tehran government, has implied Iran spends on its policy to destabilize the Middle East.