U.S. Can't Import the Scandinavian Model
The enviable growth there is driven by the American economy.
by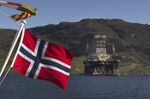 Ah, Scandinavia, Nordic paradise. Nowhere else seems to so easily combine a very progressive welfare state with high levels of growth. It's no surprise, then, that it is the darling of international indices of everything from happiness to prosperity.