How Long Before a Home Lists for $1 Billion?
The market is already halfway there.
by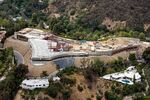 When a Los Angeles hilltop home that's under construction was recently priced at a record half-billion dollars, it looked like a one-off in excess. The same thought occurred to me late last year when real estate investor Jeff Greene, who won big betting against the housing market before the financial crisis, priced his renovated Beverly Hills, California, home at $195 million. When I dug a little deeper, though, I found that the nine-figure home is becoming almost, well, commonplace:  there are no less than three homes with asking prices of more than $300 million -- on the French Riviera, in London and in Monaco.