Nail Salons Create Jobs, But Not Very Good Ones
Some of the lowest wages are in high-paying New York.
by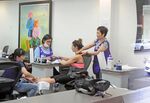 Doing other people's nails can be pretty crummy work, we all learned last month from Sarah Maslin Nir's epic New York Times investigation of the work conditions in New York area nail salons. But it has also been a booming job category, as is clear from the latest Bureau of Labor Statistics payroll-employment data:

That's right, there were 20,000 people working in nail salons at the beginning of 2000 and as of April there were an estimated 74,000. In the great scheme of American employment, that isn't much -- Friday's jobs report puts total payroll employment at 141.7 million. But with overall job growth of just 8 percent since the beginning of 2000, the almost four-fold increase in nail salon employment is pretty remarkable.
Here's how it compares to the other personal care job categories tracked by the BLS:

"Other personal care services" includes establishments such as spas where you get facials and massages and body rubs. Employment has been rising fast at those kinds of places as well. And here's an interesting thing that's consonant with Nir's investigation. Nail-care workers get paid a lot less than their peers at spas and hair salons:

Note the marked rise in nail-salon pay since the end of 2013. This could be just a quirk in the data, as the BLS has to cope with a pretty low response rate when it asks employers how much they pay. Or maybe it was because Sarah Maslin Nir started asking questions last year and goading New York regulators into action. I'm serious about that -- New York state accounted for 20 percent of the manicurists and pedicurists employed in the U.S. as of May 2014 (second only to California, at 22 percent). It also has the lowest-paid manicurists and pedicurists of any state with significant numbers of them:

The only states and territories where manicurists and pedicurists made less than they did in New York in May 2014 were Puerto Rico, New Mexico and Nevada -- places with much-lower average wage levels than New York. So the proddings of a journalist in the state with the most-underpaid nail salon workers may have resulted in a noticeable increase in nail-salon wages nationwide before her article was even published. Sure, it could have been something else. But it's an interesting possibility to contemplate. 
This column does not necessarily reflect the opinion of Bloomberg View's editorial board or Bloomberg LP, its owners and investors.