Deportation Just Became Less Likely
Justice Ginsburg gives a win to immigrants with drug convictions.
by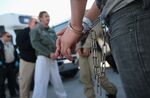 Talk of President Barack Obama's immigration initiative has slowed now that the program is stalled in court, and may not be implemented until the end of his term, if at all. But this week, the Supreme Court decided an immigration case, Mellouli v. Lynch, that has meaningful implications for potential deportees convicted of crimes. The case made few headlines, because its consequences weren't obvious to nonspecialists. Nevertheless, on close reading, the case matters -- and it raises important questions about how the U.S. decides whom to deport.