Declassified
Ash Carter Talks Tough on China, But It's Just Talk
A war of words over the South China Sea? China is not impressed.
by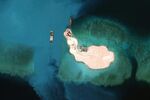 The United States and China escalated their war of words on Saturday, but Defense Secretary Ash Carter's new bluster did not hold any real strategy against Chinese aggression in the South China Sea. The region is left to wonder whether Washington intends to back up its words.
"There should be an immediate and lasting halt to land reclamation by all claimants" in the South China Sea, Carter told the Shangri-La Dialogue here in Singapore. "We also oppose any further militarization of disputed features. We all know there is no military solution to the South China Sea disputes. Right now, at this critical juncture, is the time for renewed diplomacy, focused on finding a lasting solution that protects the rights and interests of all."
Carter's remarks were a rehashing of the speech he made two days earlier in Hawaii, where he called on all countries to halt land reclamation in disputed waters and asserted that the U.S. will continue to operate in international waters according to international law and protect freedom of navigation in the region.  On Saturday, Carter announced a $425 million Southeast Asia maritime security cooperation initiative and expressed confidence that the U.S. Congress would fund the effort.
Senior Colonel Xiaozhuo Zhao, an official in the Chinese People's Liberation Army, confronted Carter at the conference Saturday. Zhao completely rejected Carter's premise and called his remarks about the South China Sea inaccurate and not constructive.
"Freedom of navigation in the South China Sea is not at all an issue because the freedom has never been affected," he said. "Also, it is wrong to criticize China for affecting regional peace and stability through its construction activities, since China has never taken any proactive measures."
Zhao called China's activities, which now include placing military hardware on reclaimed reefs in the Spratly Islands, "legitimate, reasonable, and justified." He said U.S. criticism of China and other U.S. activities such as reconnaissance flights over disputed islands were hurting the prospects for peaceful resolution. The harsh words bode poorly for Carter's call for diplomacy.
Following Carter's remarks, Asahi Shimbun journalist Yoichi Kato pointed out that Carter's rhetoric is not really new and has not thus far resulted in any halt in Chinese expansion of its military presence in disputed territories – in fact China has only escalated its aggression. He asked Carter what the U.S. is actually prepared to do to back up its rhetoric with concrete action.
Carter had no real answer, pointing back to his contention that Chinese actions are not just something for Washington to deal with. He predicted that eventually China will pay a price for alienating its neighbors, but didn't indicate that the U.S. has any real plan to ramp up the pressure.
"Many, many countries are expressing publicly their concern. Many as a consequence want to strengthen their relationship with the United States," he said. "So this kind of behavior, if it doesn't stop, one of the consequences of that will be the continued coalescing of concerned nations around the world."
U.S. officials at the conference confirmed to me privately that the Obama administration has been scrambling to react to the pace of Chinese reclamation and militarization of islands and reefs in the South China Sea and has not yet come up with a strategy to deal with the issue.
The question over the past several years hasn't been the rhetoric of the U.S. commitment, the question has been what is the United States doing to implement our security policy in the region, one U.S. official told me following Carter's speech.
The U.S. could come up with a robust strategy for steadily increasing the pressure on China by doing a number of things. The U.S. could, for example, enact consistent programs for freedom of navigation, greater shows of force, expanded training and exercise initiatives, partner capacity building, and even punitive measures like disinviting China from regional exercises.
"It's not a question of coming out to the region and giving a speech once a year. It's a question of are you willing to show up every day and is there consistency in how you show up," the official said. "It's the delta between the rhetoric and the actions you are seeing that is creating the anxiety in the region and creating the opening which the Chinese are taking advantage of."
The Chinese have spent the last decade probing on a range of issues, an understandable pattern for a growing power. When they run into resistance, they have adjusted. When they see an opening or softness, Beijing tries to pocket whatever gains it can, before renegotiating terms with the U.S. from a stronger position.
Carter's mantra for the U.S.-China relationship, as expressed Saturday, is "Everybody rises and everybody wins." It's clear that China sees the competition in the region as more of a zero-sum game. If Ash Carter intends to lead the last phase of the Obama administration's "rebalance to Asia," he must more squarely confront that contradiction and devise a real plan to deal with it.
To contact the editor responsible for this story:
Philip Gray at philipgray@bloomberg.net
Before it's here, it's on the Bloomberg Terminal.
LEARN MORE