Re/code's Sale and Life After Advertising
Is the subscription model for digital media better than the advertising model?
by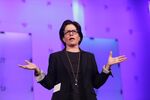 After the tech news site Re/code sold itself to Vox Media, reports in Fortune and the New York Post noted that the deal was necessary because it's just too darned hard to build a media company these days. Months before the Re/code sale, the long-running tech site Gigaom had shuttered, too.