Why California Needs Thirsty Alfalfa
It's because that's what the state's millions of cows eat.
by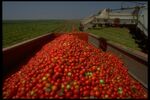 In the early 1860s Henry Miller and Charles Lux, a pair of German immigrants who had established themselves as butchers in San Francisco, began buying land along the San Joaquin River in the Central Valley about 100 miles (as the crow flies) southeast of the city. They assembled large herds of cattle on the property, and from time to time vaqueros drove the creatures out of the Central Valley and over Pacheco Pass to a ranch near the town of Gilroy, where they could be loaded onto the train to San Francisco when needed.